Wounded Suffolk Police dog gets hero award over arrest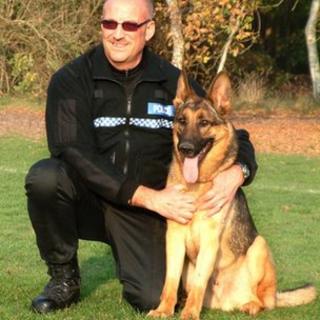 A police dog stabbed several timed while helping in the arrest of an armed man has been honoured at an awards ceremony.
German shepherd Aman gripped the man's arm as Suffolk Police dog handler PC Steve Jay restrained and disarmed him.
Aman and PC Jay suffered significant injuries but carried on. They still work together.
Aman received the Hero Service Dog award at fifth annual Dogs Trust Honours.
The awards, held at London's Honourable Artillery Company, celebrate the relationship between man and dog.
Aman, from Ipswich, received his Hero Service Dog award from TV presenter Dawn Porter and fashion designer Ben De Lisi.
"The level of aggression and violence displayed towards police on that day was significant.
"All officers present, together with Aman, displayed a level of courage and tenacity over and above what could be expected in such circumstances," PC Jay said.
"Aman is our Hero Dog and we are extremely proud of him."
The Hero Pet Dog award went to terrier cross Izzy, who saved the life of diabetic owner David Robinson not once, but twice.
The first time she alerted his wife Julie, who found him unconscious on the bathroom floor, then did the same again when he had a hypoglycaemic attack in his sleep.
"Izzy has not been trained to pick up on my seizures, she does it naturally.
"She is my hairy hero and I owe this little dog my life," said Mr Robinson, from Stocksbridge in South Yorkshire.
Dog at birth
Epilepsy alert dog, Ajay, who was retrained to also be a guide dog when his owner went blind, scooped the Dogged Devotion award for his constant source of support to the Brown-Griffin family.
The golden retriever came to live with them in Tunbridge Wells, Kent, as mother Tony's seizure alert dog to warn her before she suffered an epileptic seizure.
Soon after he joined them they discovered they were expecting a child with a potentially fatal heart condition.
He was present during the birth and stayed in hospital with them, even sleeping by newborn Mimi's cot.
After the birth Mrs Brown-Griffin suffered catastrophic bleeds in her eyes and was registered blind.
Ajay became her guide dog without any special training, as well as still being her epileptic alert dog.
Mrs Brown-Griffin said: "Instinctively Ajay became my guide. He naturally seemed to know what I needed him to do and very soon I no longer needed my cane to get about."
Schoolboy Carlos Parreira is the only human, receiving the Dog's Best Friend award.
The 15-year-old, from Reading, Berkshire, volunteers at the charity Little Dog Rescue, caring for unwanted and abandoned dogs.
"In particular I look after the older and seriously unwell stray dogs ensuring their last few days are as happy as possible at the Little Dog Rescue," he said.