Michael Pritchard inquest: Soldier 'would not have survived'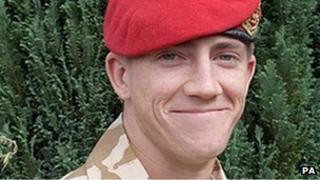 Attempts were made to resuscitate a soldier believed to have been killed by a British sniper in Afghanistan but he would not have survived, an inquest has heard.
L/Cpl Michael Pritchard, of the 4th Regiment, Royal Military Police, was fatally shot in Sangin in 2009.
A post-mortem report was read out at the East Sussex hearing.
The inquest heard he died of a single gunshot wound to the chest and abdomen, which penetrated vital organs.
L/Cpl Pritchard, who was born in Maidstone, Kent, but lived in Eastbourne, had been deployed to observation post N30 to watch a blind spot on the road and make sure Taliban insurgents were not planting improvised explosive devices (IEDs).
It is thought the bullet was fired from another remote observation post, known as a sangar, by L/Cpl Malcolm Graham, of the Royal Scots Borderers, 1st Battalion, who thought he was shooting at insurgents laying IEDs.
'Right thing to do'
East Sussex coroner Alan Craze asked firearms expert Lt Col Eammon Welch whether the sniper had fallen under the Rules of Engagement - meaning whether the sniper had believed there was an imminent threat to life when the fatal shot was fired.
Lt Col Welch said: "If you saw somebody you thought was laying an IED that would fall in to the Rules of Engagement of lethal fire."
He also said it did not matter how far away the threat was.
Lt Col Welch said if a soldier was of the honest belief that what he saw before him was an IED layer then he could employ the Rules of Engagement, having taken in all other intelligence.
"If you accept that what they saw through their sights was an IED layer then it was the right thing to do," he added.
"Hindsight is a beautiful thing. Life on a battlefield is chaos. They are tired, they are under threat.
"They have to come to a decision using the information and the best judgment they have at the time."
The inquest was adjourned.