Theresa May defends firms taking on some police roles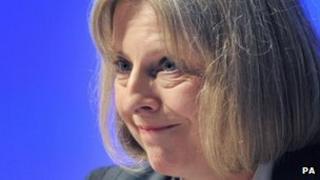 The Home Secretary Theresa May has defended plans to allow private firms to take on some roles currently performed by the police.
In March West Midlands and Surrey police invited private sector bids worth £1.5bn on behalf of other forces.
Last week Surrey Police said plans would be put on hold, while West Midlands also requested a "revision".
The news was welcomed by the police federation, which has criticised the proposals.
Speaking in parliament, Ms May said front-line police were not under threat and that transferring powers from warranted officers to the private sector was never part of the plans.
She added: "It is right that forces up and down the country are now looking... at bringing in the private sector to their forces where they feel there are functions that can be done more cost-effectively by the private sector."
£200m contract
The home secretary said forces had been looking at partnerships with the private sector for many years.
In Lincolnshire, about two thirds of the force's civilian staff now work for private security firm G4S after the signing of a £200m contract.
Police in West Midlands and Surrey said they wanted to delay the plans to allow public consultation to take place and enable "both forces to contribute to a safe and secure Olympics".
West Midlands Police Chief Constable Chris Sims said he remained committed to a partnership with the private sector.
The force is due to present a paper to its authority on 24 May where consideration "is to be given to the timetable and the release of funds".