Manufacturing sales rise in West Midlands and North West, report says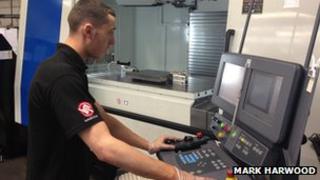 Manufacturing in the West Midlands and North West has seen an increase in sales, according to a new survey.
The Manufacturing Advisory Service (MAS) said 62% of small and medium businesses in the regions saw turnover rise in the past six months.
This was a greater increase than anywhere else in the country, the organisation's MAS Barometer survey found.
Researchers spoke to 610 businesses across England.
The figures showed UK manufacturing output has bounced back recently, rising 0.9% in March, according to the Office for National Statistics.
New staff
Among the 73 companies questioned in the West Midlands and North West, 73% said they expected further growth between now and the end of the year.
Nationally, the percentage of companies that saw a rise in turnover was 54%, while 60% expected further growth.
The MAS is funded by the Department for Business, Innovation and Skills and provides support for manufacturing businesses based in England.
Simon Griffiths, MAS area director for the North and West, said manufacturing around the area was "outperforming the rest of the country", and the industry was bucking the national trend of the recession.
One of the key reasons behind the area's success was businesses moving operations back home following recent "supply shocks" abroad, such as the Japanese tsunami, he added.
"I think we saw that in the automobile industry in particular," Mr Griffiths said.
"You have just got to look at the types of companies that are strong in the West Midlands and the North West.
"We have a lot of companies that are supplying to the automobile and aerospace industries - they are areas where we are very well represented."
The quarterly survey also revealed that 46% of companies in the area were planning to take on staff in the coming year.
Barkley Plastics, which contributed to the survey and employs 94 people in the West Midlands, has seen steady growth in the automotive, medical and household products markets and anticipates an increase in sales over the next six months.
Director Maurice Cassidy said: "From talking to a number of existing and potential clients we are expecting growth in key industries and this will certainly involve taking on new members of staff to cope with demand."
The report said that 56% of companies in the West Midlands and North West were planning to increase investment in premises and machinery, while 57% plan to invest in developing new technology.