Dartford Crossing toll charges set to rise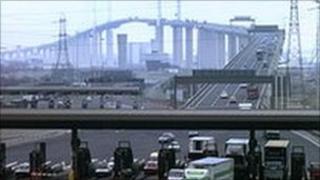 Road toll charges at the crossing between Kent and Essex are to rise in October, the government has announced.
Car drivers will be charged £2 from the autumn, a rise of 50p, to use the Dartford-Thurrock River Crossing.
Electronic charging, which means vehicles will not have to stop, will be introduced in 2014, when the charge for cars will rise to £2.50.
Dartford and Kent councils said the move was disappointing. Driving organisations have also objected.
Road Minister Mike Penning said: "The Dartford-Thurrock River Crossing is a vital piece of transport infrastructure that has brought huge economic benefits to the country.
"But currently it can't meet the growing demands of drivers so we need to plan properly for the longer term."
'Captive market'
He said work was continuing to look at the options for a new Lower Thames crossing.
Dartford council leader Jeremy Kite said: "It is a source of great regret that we're still talking about regular increases in the tolls.
"Everyone knows that the tolls should have been removed as soon as the bridge was paid for."
Kent County Council's cabinet member for environment, highways and waste, councillor Bryan Sweetland, said: "It is disappointing that toll charges at the Dartford Crossing are being increased without any improvement to the congestion problems."
AA president Edmund King said: "It is ludicrous to argue that tolls are in place to manage demand - drivers on the M25 do not have the luxury of choosing another crossing and therefore the crossing has a captive market."
Association of British Drivers chairman Brian Gregory said the move was "outrageous" and added: "This will come as a bitter blow to users of the crossing."
Under the changes, crossings on motorcycles remain free and there will be discounts for local residents and those who pay in advance.
The charge for drivers of light goods vehicles will rise from £2 to £2.50 in October, while heavy goods vehicles will be charged £5 - up from £3.70. These will rise to £3.00 and £6.00 respectively in 2014.