Fiona Donnison loses appeal over child murder jail term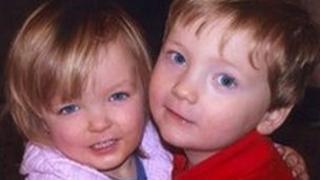 A mother who killed her children has lost an appeal against her jail term.
Fiona Donnison, 45, of Lightwater, Surrey, was ordered to serve at least 32 years after being convicted at Lewes Crown Court in August.
At the Court of Appeal, her lawyers argued her term was "manifestly excessive", but judges disagreed.
The bodies of Harry, three, and two-year-old Elise were found in the boot of Donnison's car near the former family home in East Sussex in 2010.
The Lord Chief Justice, Lord Judge, sitting with Mr Justice Openshaw and Mr Justice Irwin, were given details about her mental state during the hearing.
Children smothered
Donnison went into Heathfield police station in East Sussex on 27 January 2010 and told officers she had killed her children.
Their bodies were found in holdalls in the car boot of her Nissan which was parked around the corner from where the family had lived in Meadowside, Heathfield.
During her trial, jurors heard Donnison smothered the children with their bedding the night before their bodies were found.
Trial judge Mr Justice Nicol described the murders as "deliberate and wicked acts".
Donnison declined to give evidence during the trial.
The appeal judges heard from Simon Russell Flint QC that the killings were in the context of a genuine suicide attempt by Donnison, who was suffering from some mental disorder, and there was a complete absence of premeditation.
He said that she had been "at all times an excellent and dedicated mother", but there were particular stresses which tipped her over the edge.
'Defenceless children'
Lord Judge said it was a "truly tragic case".
"The issue at trial was diminished responsibility and, on the face of it, for a mother to kill her own children is clearly contrary to everything encompassed in that wonderful descriptive phrase 'mother's love'," he said.
He said that in sentencing, the trial judge had rightly addressed the mitigating features but, on the other hand, the murders involved two small children who were defenceless.
Lord Judge said that on the basis of the evidence before him, and the jury's findings, the observation that the deaths were "the result of deliberate and wicked acts" was one Mr Justice Nicol was entirely justified in making.
"Like the judge, we have stood back and tried to balance all these different considerations which a case involving a mother killing her two small children requires and justifies," he said.
"But, having done that, we have come to the conclusion that the judge did not merely properly attend to the issues which might have provided mitigation but, setting them against the serious aggravating feature we have identified, that the balance he achieved fell within the appropriate range for a sentence of this kind."