Child death mother Melanie Ruddell's 'loved' son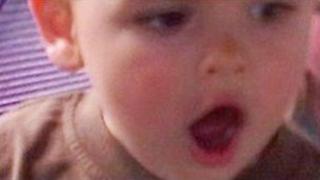 The brother of a County Durham woman who killed her son told an inquest he never thought she would harm the toddler.
Melanie Ruddell, 40, strangled her toddler Christy at her brother's home in West Rainton in August 2010.
She carried the body of two-and-a-half-year-old into Peterlee police station.
At an inquest at Sunderland Civic Centre, her brother Neil Close told coroner Derek Winter "she loved that little boy".
Mr Close said he had been concerned about Mrs Ruddell's mental health over that weekend.
She was taken to the University Hospital of Hartlepool but left before psychiatric assessment could take place.
She explained she was desperate to see her son rather than wait to see a specialist.
The agitated mother did agree to leave her home in Castle Eden, County Durham, and stay with her brother.
In the early hours, she killed Christy, then drove to Peterlee police station where she stunned staff behind the counter by walking in with his body.
She is receiving treatment in a secure hospital after admitting manslaughter on the grounds of diminished responsibility.
'Bizarre allegations'
Mr Close continued: "I didn't believe she would do anything silly. I thought if something tragic happened, then Melanie would do something to herself.
"Not for one second did it cross my mind (to be concerned) for Christy."
Mrs Ruddell had caused concerns about her mental state after she made a bizarre set of allegations to police, the inquest heard.
One witness had described them as "gobbledegook".
Relatives asked police if she could be sectioned for her own good as her behaviour was so out of character, but were told by officers a GP's consent would be needed.
Mr Close told the inquest: "I said let's get the GP here and he (a PC) said it was not extreme enough."
Det Con Helen Tindale, who was a PC at the time and who attended Mrs Ruddell's home when the strange allegations were reported, told the inquest she informed the worried relatives she could not section her.
"It was not in my power," she said. "I told them the GP would need to attend for the section to begin."
The inquest continues and is expected to finish on 30 May.