Shafilea Ahmed drank bleach in Pakistan, sister tells court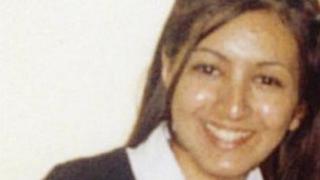 Schoolgirl Shafilea Ahmed drank bleach during a family trip to Pakistan after her mother told her she would not be returning to the UK, a court heard.
The 17-year-old went missing from her home in Warrington, Cheshire, in 2003 and was found dead six months later.
Her parents Iftikhar, 52, and Farzana Ahmed, 49, are on trial at Chester Crown Court where both deny murder.
Giving evidence, Alesha Ahmed said her elder sister was given marriage proposals while in Pakistan.
There were no actual wedding plans in place, she added.
'Holding her stomach'
Speaking from behind a curtain, Ms Ahmed, 23, told the court that during the trip her sister thought she would be kept there and had been unhappy.
She said: "My mum made a remark to Shafilea which I think was what triggered her into drinking bleach.
"She told Shafilea she would be staying in Pakistan and wouldn't be going back.
"It was done in a humorous way but obviously it was very serious as other people were present."
The witness added: "Shafilea went to the bathroom. Everyone just heard her screaming and shouting."
Everyone ran outside where Shafilea was holding her stomach and there was a bottle of bleach on the floor with the lid still off, the court heard.
Asked about her mother's reaction, she said she had a "distant" look on her face before adding: "It was like she was thinking it's better she had done it herself."
Once Shafilea was in hospital, Ms Ahmed said their mother was angry because she had "made a scene".
She said her mother told Shafilea she should tell people it was a mistake, and that in the dark she had picked up the bleach instead of the mouthwash.
The witness said: "I remember saying to Shafilea that I couldn't believe she had drank bleach and that she had done that to herself.
"She said 'what else was I supposed to do?'."
The incident caused severe damage to Shafilea's throat and she was unable to eat properly for some months, Ms Ahmed said.
'Parents' demands'
Ms Ahmed told the court that when Shafilea came home from Pakistan, she was in hospital in Warrington, where she remained as an inpatient for the next three months and her weight was 5st (31kg).
The court heard that when Shafilea came out of hospital, her parents told her she could not go back to Great Sankey High School because they believed that was where the "trouble" started.
Instead she was enrolled at the nearby Priestley Sixth Form College.
Ms Ahmed described how her sister had started agreeing more to her parents' demands on her and said the arguments became less frequent.
She said Shafilea took a part-time job after college and after a "week or two" had put on some weight.
But Ms Ahmed said more trouble started when their mother picked Shafilea up from work and she was wearing non-traditional clothes.
"She (Mrs Ahmed) was not happy about her being in a T-shirt," she said. "There was a car next to us which had Asian people in there and so she was not happy that someone had seen her like that."
Ms Ahmed has previously told the court that she saw her parents suffocate Shafilea at their home.
The teenager's decomposed remains were discovered on the banks of the River Kent in Cumbria in February 2004.
It was not until 2010 that her sister provided the "final piece of the puzzle" about her death, the court has been told.
The trial continues.