Minister steps into East Midlands Trains drivers' dispute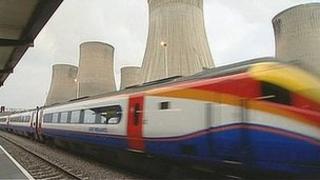 A government minister has stepped into the pensions dispute that has led to a wave of strikes at East Midlands Trains.
Transport Minister Norman Baker said in a letter that his department was "disappointed" with the firm's proposal to reduce pension contributions.
East Midlands Trains wants to cut its own pension contributions and those of staff from July.
The train drivers' union Aslef has held six one-day strikes over the plans.
Accepted 'reluctantly'
Aslef had written to the Department for Transport asking why it had accepted East Midlands Trains' proposals, despite concerns being raised by experts about the pension funding levels.
In a reply, Mr Baker revealed his department's position when the rail company put forward the idea of reducing pension contributions.
He wrote: "The reply sent in response to the consultation stated: 'the department is disappointed that EMT [East Midlands Trains] has chosen to reduce contributions rather than have them remain as they are. Leaving contributions as they are would have ensured some stability in the current economic climate."
"However, the department accepts that EMT has acted in accordance with the advice of the scheme actuary.
"It is therefore correct for East Midlands Trains to state that the department accepted the recommendations to reduce the contributions, but only reluctantly and only because it was acknowledged that the action was compliant with the terms of the Franchise Agreement and the advice of the scheme actuary at the time of the last valuation in December 2010."
RMT ballot
The Aslef union official who received Mr Baker's letter, Andrew Botham, said: "It is clear that East Midlands Trains have ignored the advice of the government."
The company has claimed that a reduction in pension contributions would leave train drivers £500 a year better off.
But the union said reducing contributions could make the fund worse off. It claims the company's reduction would save the firm up to £3m over the next three years.
An East Midlands Trains spokesperson said: "As we have already made clear, the changes are based on the recommendations of the independent experts and already take into account relevant factors such as the economic climate and its impact on pensions investments as well as the safeguards built into the valuation.
"We have put updated proposals to the unions following our recent meeting and we would again urge them to sit down and talk about resolving the dispute rather than continuing with any further unnecessary strike action."
Meanwhile, Unite union members at maintenance depots in Derby, Nottingham and Leeds have already voted to strike in a dispute linked to the pension issue and pay but are now considering an improved pay offer of 3.8% from the company.
The RMT union is also balloting members about the pension issue and the result will be known on 30 May.