Huddersfield Town and Sheffield United in Wembley final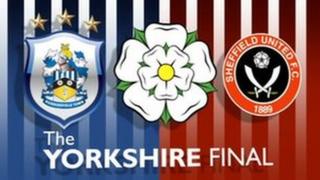 Thousands of Yorkshire football fans are heading to Wembley for Saturday's League One promotion final.
Huddersfield Town and Sheffield United are battling for a final place in the Championship alongside already promoted Sheffield Wednesday.
Two special trains and numerous coaches will take fans to the game as more than 50,000 tickets have been sold.
Sheffield United finished in third place after the regular season, with Huddersfield Town one place behind.
Among those using less traditional means of travel to Wembley is Terriers' chairman Dean Hoyle, who is part of a group of 50 cycling to the stadium. The group has raised about £40,000 to buy tickets to the game for disadvantaged children.
'Nervous anticipation'
Steve King, a member of the Huddersfield Town Supporters' Association, will be travelling down by train on Saturday morning with a group of friends full of "nervous anticipation".
He was there for the club's last Wembley win in 1995 when Huddersfield beat Bristol Rovers 2-1, and knows the "winning feeling".
However, he also knows the "losing feeling" with Town failing at this same stage last year at Old Trafford against Peterborough.
Mr King said there was a "bit of extra spice" for the supporters with the game being between two Yorkshire teams.
Howard Holmes has been a Blades fan for more than 60 years but he has made a significant change to his pre-match ritual for this game - he has given up a complicated series of superstitions.
Mr Holmes owned a "lucky" signed club shirt and had previously looked for predictions of the score for the next match in any numbers he encountered in daily life. "Where have they got me?" he said.
Mr Holmes, a part-time worker for community charity Football Unites Racism Divides, said he had "never seen a season like it" during the tussle with Sheffield Wednesday, and he was "hurting" that the cross-town rivals had been promoted automatically.
The Football League has confirmed tickets for the game, on Saturday at 15:00 BST, will also be available on the day from the Wembley ticket office.