Bernie Ecclestone flies ill children to Monaco Grand Prix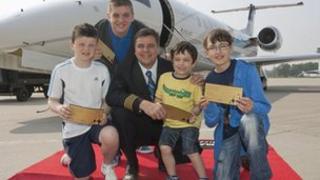 Four boys with serious illnesses have been flown by private jet to the Monaco Grand Prix.
The trip was arranged by Formula 1 President Bernie Ecclestone and the Starlight Children's Foundation.
They are Charlie Leach, 17, Jack Godfrey, 11, both from Oxfordshire, Finn Denyer, five, from Northampton, and Ciaran Ross, nine, from the Isle of Skye.
The group were flown to Monaco in a private jet for a five-day break.
'Dream come true'
They only found out about the surprise trip when they arrived at Farnborough Airport in Hampshire on Thursday.
Charlie, from Witney, said it was "a dream come true".
The teenager was diagnosed in 2011 with a rare form of cancer called liposarcoma.
Surgeons successfully removed the tumour after five weeks of daily radiotherapy.
He said: "I'm looking forward to meeting the teams, it'll be so different from watching it on TV.
"I have two older brothers, they are very jealous."
'Inspire us'
His father, David Leach, said of the group: "They have been through a lot in their lives so far but have never failed to surprise and inspire us with their strength and resilience.
"They're all determined to live life to the full."
Finn was diagnosed with acute lymphoblastic leukaemia at three-years-old and continues to receive treatment.
He said: "This is very special and exciting, it feels fantastic. The best bit will be watching the cars go round and round, it's going to be brilliant."
Ciaran recently completed chemotherapy after being diagnosed with acute lymphoblastic leukaemia three years ago.
Jack, from Burford, was diagnosed with a brain tumour in March 2010.