Consumers footing the bill for UK's new nuclear age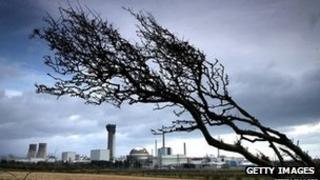 The prospect of a new nuclear age has moved closer with a boost to plans to build new power stations and deal with the waste from the old ones.
Firstly, there's the government's Energy Bill which very much sees new nuclear as a key way of keeping the lights on.
The problem is the coalition's plans had been foundering as some nuclear generators had pulled out of plans for new stations.
They were concerned that an open energy market would see their revenues bounce up and down, failing to guarantee the income they needed to justify the huge upfront investment in building stations.
Profit guarantees
The German companies RWE and E.ON had already ditched their plans and there were some rumblings from other firms.
But the Energy Bill will now offer profit guarantees to new nuclear developers to try and give them that security.
It'll be funded by a levy on all our energy uses, possibly adding up to around £100-£200 to each consumer's bill.
But the government insists it will be worth paying as it'll guarantee that we will be able to meet our energy needs without relying so heavily on foreign gas and oil.
On the face of it this intervention seems to breach the coalition agreement though. That said, nuclear power stations would only go ahead if they weren't subsidised.
Subsidies could also breach EU law.
But according to the government this is a profit guarantee not a subsidy, and it says it will also apply to developers of renewable energy too.
That definition could yet be tested in the courts by environmentalists who believe the government has bowed to pressure from the nuclear lobby.
Green MP and party leader Caroline Lucas said: "We know that subsidising new nuclear flies in the face of the coalition's promise not to use taxpayers' money for nuclear.
"Yet no matter how much ministers deny it, this will gift EDF and other potential nuclear operators billions of pounds in subsidies over the lifetime of a power station."
Investor interest
Energy Secretary Ed Davey though insists market economics will still apply to new nuclear operators and that they are just trying to introduce some stability into the market.
He said: "I believe there is now a huge amount of investor interest out there in new nuclear.
"I think the threat of climate change and the need to make sure we can keep our lights on means we have to look at all low carbon technologies whether it's renewables, carbon capture or new nuclear."
Of course, the other problem that has dogged the nuclear industry has been waste.
For three decades now, governments have been searching for a permanent solution for the stockpiles of waste generated by the first wave of nuclear power stations.
But there was a step forward on that front this week too.
A poll conducted in Cumbria suggested people there could be prepared to be the home for an underground nuclear waste store.
In the survey of 3,000 Cumbrians, half said they would support the search for a storage site in the west of the county.
Around a third were against the idea.
That figure rose to 68% in Copeland - the home of the Sellafield nuclear plant and the location where much of the waste is currently stored above ground.
Jobs and investment
There's still a long way to go before a specific site is identified and investigated.
Environmentalists will also raise doubts about the safety of underground storage, and argue that creating more waste would just add to the problem.
But for the government the willingness of Cumbrians to even consider hosting the store is a step forward.
And for Cumbria, the future of the nuclear industry is important.
A store is likely to bring some jobs and investment, but even more importantly West Cumbria could also become the site for up to three new nuclear power stations.
So whether you love or loathe the industry, this week's developments do seem to make it more likely that nuclear power will be a key part of the UK's energy market for decades to come.