Lucy Dunford murder trial: Toddler's 'breathing disrupted'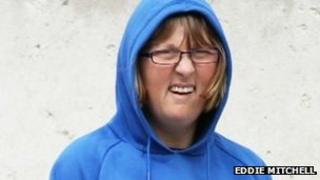 A pathologist who examined a toddler found dead in bed found signs her breathing was disrupted, Lewes Crown Court has heard.
Lesley Dunford, 33, of Exeter, Devon, denies murdering her three-year-old daughter Lucy at the family home in Camber, East Sussex, in 2004.
Pathologist Nathaniel Carey said Lucy had a rash on her face and lining of her eyes which was typical of asphyxia.
He also said bruising around the nose was consistent with it being pinched.
Dr Carey, a Home Office forensic pathologist and expert in constraint-related deaths, said one of the reasons for the petechial haemorrhage, or rash, could have been compression of the neck.
He said breathing could also have been disrupted by compression of the chest.
'Blunt instrument'
He added: "Sneezing or violent coughing, such as whooping cough, may be able to produce scattered petechial haemorrhage, but it would have to be very long, sustained, day after day coughing and coughing and coughing."
When asked by prosecutor Sally Howes QC if the rash could have been brought about by illnesses such as leukaemia, meningitis or septicaemia, he said if Lucy had any of those illnesses she would have had the rash all over her body and not just her face.
Dr Carey said the rash could not have occurred during resuscitation.
He added there were fingernail marks on the child's neck which also would not have been caused during resuscitation.
A cut above her eyebrow was likely to have been caused just before or during death by a "forceful blunt instrument" such as a bed headboard, he said.
Ms Dunford has said Lucy was fine when she put her to bed at 14:00 GMT in their Pelwood Road home but an hour later she found she was not breathing.
The case continues.