East Midlands Train staff threaten Jubilee strike over pay and pensions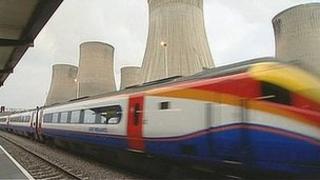 Train maintenance staff at three depots run by East Midlands Trains have voted to go on strike for six days, including the Jubilee weekend.
The Unite union members have told East Midlands Trains that the strike will go ahead unless their demands over pay and reduced pension contributions are met.
Talks are under way between the two sides to try to resolve the dispute.
East Midlands Trains spokesman said the strike, planned for 31 May until 6 June, would have a minimal impact.
Improved offer
Unite represents about 175 staff who work for East Midlands Trains, out of 2,000 staff.
The maintenance and cleaning staff work at depots in Derby, Nottingham and Leeds.
An East Midlands Trains spokesman said the firm had made an improved pay offer of 3.8%.
The firm also wants to cut its own pension contributions and those of staff from July.
The train drivers' union Aslef has already held six one-day strikes over the pensions issue and the results of an RMT strike ballot are due next week.
The Aslef dispute is just over reduced pension contributions, and not pay.
East Midlands Trains said it would not comment further while the negotiations were continuing.