Winchcombe petrol station crash road in 'bad state'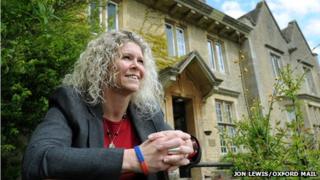 The road where a car crashed into a petrol station had recently been resurfaced and was an accident waiting to happen, residents have said.
Julie Stodart-Cook, 43, died after her car crashed at Alderton Garage, on the B4077 near Winchcombe, Gloucestershire.
One resident said recent work had left the road in "a very bad state".
Gloucestershire Highways said they had dusted the road with grit after it began to "sweat" and put out 20mph signs to warn drivers.
A 15-year-old boy who was working at the petrol station at the time is said to be in a stable condition.
Ms Stodart-Cook, from Kingham, Oxfordshire, was head of business at Kingham Hill School.
Resident Roger Knapp said the road had been dangerous for years because the speed limit of 60mph was too high, and that recent resurfacing work had not helped.
He said: "The bad condition of the road and the speed cars travel down that road has been highlighted this weekend with the tragic death of that teacher."
'Inappropriate to speculate'
Kath Haworth, stakeholder manager at the highways department, said: "Gloucestershire Highways carried out surface dressing on the road some weeks ago but, following the recent hot spell, the surface began to 'sweat'.
"So at the end of last week, we dusted the surface with fine grit and we also put out 20mph speed signs on the road to warn drivers.
"We are working with the police on their investigation, so it would be inappropriate to speculate about the cause of the accident at this time."
Tributes have been paid to Ms Stodart-Cook and the school where she worked is said to be in mourning.
Head teacher Nick Seward said: "Stoddie was a one-off and a vibrant example to girls and boys at Kingham Hill across a huge range of academic and extra-curricular disciplines.
"Only last week she had received a spontaneous ovation in chapel for an inspiring talk that she gave to the pupils about determination and achieving life goals," he said.
"She will be irreplaceable and the school is offering every support to pupils affected by her loss and will continue to do so.
"Our deepest condolences go to her husband Richard and family and they will be very much in our prayers in the coming weeks."
A garage worker, a woman in her 20s who was sitting in a car on the forecourt at the time, has now been discharged from Gloucestershire Royal Hospital.