Payday lender criticised for 'Jubilee loan'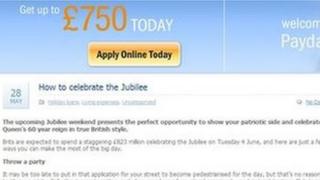 A payday lender has been branded "irresponsible" after it published a blog suggesting people could take out a loan to fund Jubilee celebrations.
Payday Bank said the Diamond Jubilee presented the "perfect opportunity" to celebrate in true British style.
It concluded: "If you want to boost your Jubilee spending pot, a same day loan could provide the cash you need."
The company's website said the interest payable on a £180 loan is £45 if paid back in full within 28 days. The APR is given as a variable rate of 1,737%.
The article has been condemned by campaigners and a debt advice charity.
The online piece suggested people throw a party, get their children involved in making bunting, watch coverage of the various public events on TV and head to London to watch the pageant on the Thames.
It was tagged with a number of search terms including "ways to save money".
Taken down
A spokesman for the company said the blog had been taken down once the BBC brought it to their attention.
He said: "We do not feel this was acceptable content and is not up to the standards we set ourselves with regards to responsible lending and brokering.
"The blog was written by a contracted third party, and we should have been more rigorous in checking the information on it.
"We would like to clarify to anyone that uses our site that we do not encourage or recommend that anyone takes out payday loans for any reasons other than emergencies."
He added the firm would be reviewing the content of the blog and of its website to make sure they did not send "conflicting messages".
Steve Perry took out 64 loans from 12 different companies over 18 months, leaving him with a debt of £22,000.
He now campaigns for more regulation for the payday loans industry.
'Targets the vulnerable'
He said: "Since I began campaigning I have witnessed blatant acts of irresponsible advertising from a number of lenders targeting huge national events, ranging from Halloween to Mother's Day.
"It is of little surprise that an event which has captured the nation's imagination is being exploited by this industry.
"Irresponsible advertising targets the vulnerable on an emotional level, people can easily get caught up in the hype and fear of 'missing out' and for that reason could be tempted by a payday loan."
Business Minister Norman Lamb warned people against getting into "unnecessary debt" over the Jubilee.
He said: "Of course the government wants everyone to enjoy the Jubilee this weekend, but there are undoubtedly cheaper ways to enjoy this special occasion without getting into unnecessary debt.
"Payday loans should only ever be used as a short-term financial stop-gap, not as a long-term solution to financial difficulties.
"And in all cases, people need to ensure they fully understand the terms of the loan and can afford the repayments before signing up."
Debt advice charity the Consumer Credit Counselling Service said the blog was no surprise.
A spokeswoman said: "We see it at Christmas and around Valentine's Day.
"People need to take into account this is an incredibly expensive form of credit.
"There are so many ways to celebrate the Jubilee without spending money."
She said the charity was seeing more payday loan companies using different forms of media such as blogs to promote their services.
"There's nothing they wouldn't do or say to get people to take out incredibly expensive credit," she said.
"If you need a payday loan your financial situation is probably quite vulnerable so it's likely you will struggle to pay it back."
Stella Creasy, Labour MP for Walthamstow, campaigns for more regulation for payday lenders.
She has pushed the government for caps on the cost of credit being introduced in the high-cost credit market.
She said: "Every time I think the payday industry couldn't be more outrageous they prove me wrong - encouraging people to get into debt to celebrate the Jubilee is just another example of why these companies cannot be trusted to put the interests of consumers first and why the government should intervene.
"Self-regulation is not the answer to the poor practices of legal loan sharks and with millions of people now getting into financial difficulties as a result of these loans there's no time to waste.
"We need caps on the costs of credit to give British consumers the same protection that others around the world enjoy from these companies."