Deaf student Helen Willis awarded Oxford tuition grant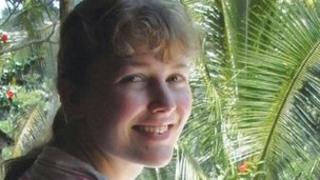 Helen Willis was just 18 months old when she lost her hearing after contracting meningitis.
Her parents were told she would never be able to speak again and would need care for life.
But thanks to a cochlear implant, the 21-year-old won a place studying at Oxford University and now wants to help others excel as she has.
The St John's College undergraduate, from Reading, has been awarded a £6,000 tuition grant by Cochlear UK to complete a doctorate in auditory neuroscience.
An Oxford blue in dance, the second year physiology and psychology student hopes to raise the profile of deafness and highlight the benefits a cochlear implant had on her life.
No voice
Miss Willis said: "When I first lost my hearing, my parents were told I would never be able to speak and I would need special support for the rest of my life.
"When I got my cochlear implant, doctors still couldn't guarantee me a voice.
"All they could guarantee me was a better appreciation of environmental sound. For instance, I would be able to lip read better and have a greater recognition of someone speaking.
"They didn't even contemplate that I'd be able to speak, let alone go to university."
Miss Willis attended Mary Hare Grammar School for the Deaf in Newbury where she earned straight As at A Level.
She took a place at St John's College, Oxford after meeting her conditional offer and impressing tutors at her interview.
Life-changing device
The £6,000 Cochlear UK Graeme Clark Scholarship Award is presented annually to support implant users in their university studies.
Miss Willis was fitted with her life-changing device at The Nottingham Cochlear Implant Centre 18 years ago.
The centre was originally established by Prof Graeme Clark, whose pioneering work lead to the first "bionic ear" being switched on in 1978.
Thrilled with the recognition, Miss Willis said the grant would allow her to give something back to the research which helped her get to university.
She added: "There's still a missing link with cochlear implants.
"The technology is pretty much sorted, it's constantly being fine-tuned. But, it's working out that formula between getting the implant and doing well in education.
"There's still a gap there that experts don't know much about and I'm hoping I can draw on my own experience to assist that."