Sunderland's Titus Bramble 'forced victim to touch his groin'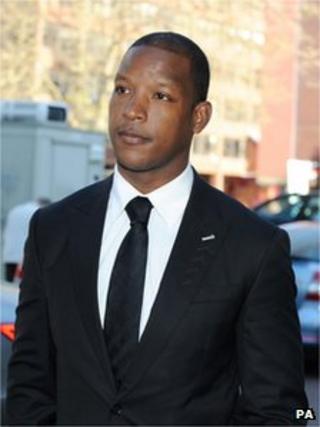 Sunderland defender Titus Bramble "forced" a woman to put her hand in his groin while they were in a taxi together, a court heard.
Giving evidence at Teesside Crown Court, the woman said she was left "really scared" by what Mr Bramble did.
She has told the court that she repeatedly told the player to leave her alone.
Ipswich-born Mr Bramble, 30, denies four counts of sexual assault.
The court heard he was arrested after a night out in Yarm, Teesside, on 28 September last year.
He is accused of groping a woman in a nightclub and then assaulting another in a taxi.
Giving evidence from behind a screen, the woman said that she agreed to share a taxi with him after leaving the Cross Keys nightclub.
During the journey he tried to kiss her and put his hand up her dress, but she told him to leave her alone, the jury heard.
She said he told the taxi driver to take them back to his home in Wynyard, near Middlesbrough, but she said she wanted to go straight back to her own home.
The court was told he then "grabbed" her hand and put it on his groin, at which point she became "really scared".
'Asking for help'
Instead of taking the pair to Mr Bramble's home, the taxi driver drove to a police station and, once inside, his alleged victim locked herself in a toilet and refused to leave until the player was led away by officers, prosecutors told the court.
The taxi driver, Abid Hussain, told the court he saw Mr Bramble kiss the complainant for 15 to 20 seconds before she pulled away.
He said he could not see what was happening in the back but said he heard the defendant say: "You're not giving me a kiss".
Mr Hussain said he then felt the woman squeeze his shoulder.
He told the court: "She put her hand on my arm.
"She was squeezing my arm. I just felt like she was asking me for help."
He said he told Mr Bramble he was taking him home but instead went to the police station, saying it was because he had not paid the correct fare.
PC John Smith, the police officer who arrested Mr Bramble, told the court he found him "urinating on the front of the police station".
He said: "He was very drunk. He kept telling me his driver was in the station."
PC Smith said he went into the reception area to find the complainant "very distressed".
He said: "She told me that whilst in a taxi, Mr Bramble had taken her hand and placed it on his trousers."
He arrested Mr Bramble on suspicion of sexual assault. He was interviewed by a detective and made no comment except to deny the charges.
The trial was adjourned until Wednesday.