Type 2 Diabetes 'undiagnosed in 30,000 people'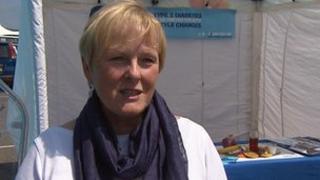 More than 30,000 people in Devon and Cornwall have undiagnosed Type 2 Diabetes, a health charity has claimed.
Diabetes UK said about 12,700 adults in Cornwall and 18,500 in Devon were unaware they had the condition.
The charity is running a roadshow in the region and carrying out risk assessments to find out how aware people are of developing it.
It said risks included being overweight, aged over 40 and having a close relative with diabetes.
The organisation said those who were assessed as having a moderate to high risk of developing the condition would be referred to their doctor for further tests and offered "lifestyle advice".
Emily Perriam, from Diabetes UK, said: "There are some quite severe complications with diabetes, particularly if it's not managed properly, including stroke, heart disease and amputations as well."
Cathy Bulley, who underwent the risk assessment in Penzance, said: "This is very good actually because it does focus you to make the right moves."