Shafilea Ahmed: Sister's murder claim was 'wicked story'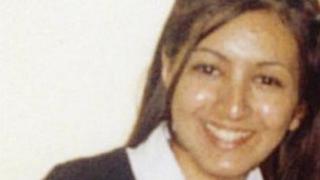 Shafilea Ahmed's sister invented a "wicked story" that her parents killed the teenager, a court has heard.
Shafilea, 17, went missing from home in Warrington, Cheshire, in 2003 and was found dead six months later.
Alesha Ahmed, 23, told Chester Crown Court she did not invent the story following her arrest for organising a robbery at her family home.
Her parents Iftikhar Ahmed, 52, and Farzana Ahmed, 49, both deny murdering their daughter.
Tom Bayliss QC, for Mr Ahmed, told the court Ms Ahmed had made the allegation because she was "caught red handed" over the robbery in August 2010.
'Trump card'
She has since admitted helping to organise the robbery, in which four masked men burst into the house and searched for money as her family were inside.
Mr Bayliss said to her: "You knew you could buy yourself out of trouble by making up a wicked story about your parents."
Ms Ahmed, giving evidence from behind a screen, replied: "I don't think the police are stupid enough to go on a story if they haven't got any evidence."
Mr Bayliss added: "You played your trump card didn't you? You decided to tell the police that your parents killed your sister and you did it to get yourself out of trouble."
She replied: "I didn't do it to get myself out of trouble. At the end of the day I was feeling really torn, and I still do feel quite torn. It's not a win-win situation.
"At the end of the day I've got my sister who's died on one side and my parents who I care about on the other."
'Westernised teenager'
Last week Ms Ahmed told the court that she saw her mother and father force a plastic bag into Shafilea's mouth, suffocating her.
She alleged that her parents saw Shafilea as a "westernised" teenager whose behaviour brought shame to the family.
During further cross-examination, Mr Bayliss said Alesha went out drinking on the day following the alleged murder, wearing her sister's "westernised" clothes.
He said: "If you had seen your parents killing your sister the day before you would not have dared go out drinking, would you?"
Alesha replied: "That's why I went out. Because of what I had seen."
The case continues.