Sunderland's Titus Bramble says assault claim woman kissed him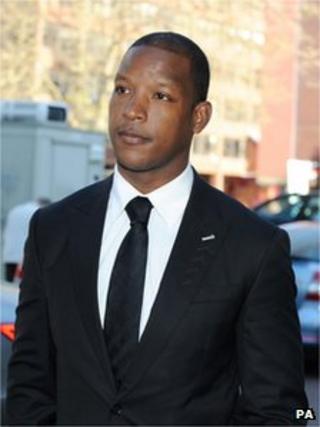 Footballer Titus Bramble has said a woman who accused him of sexual assault was "touchy feelie" and kissed him "passionately" in the back of a taxi.
The defender, who plays for Premier League side Sunderland, admitted kissing the woman but said at no point did she tell him to stop.
Ipswich-born Mr Bramble, 30, denies four counts of sexual assault.
He did admit urinating outside Stockton Police Station shortly before his arrest, Teesside Crown Court heard.
Giving evidence Mr Bramble said of the taxi journey from a nightclub: "We were kissing. We kissed a couple of times passionately.
"She was touching me and putting my hand on her leg."
'Mood changed'
Mr Bramble said the woman, whom he had met before, also touched his crotch.
He told the court her mood then changed, adding: "She then said that she wanted to go to an address and that she wasn't happy."
The taxi driver believed something was wrong and drove the pair to a police station, jurors have been told.
The court also heard Mr Bramble admit he was "quite drunk" on the night he was arrested but he denied the prosecution's claims that "in drink" he thought his fame would let him "do what you wanted to do".
He is also accused of groping a woman in the Cross Keys nightclub, Yarm in September 2011, which he also denies.
She told the court that after the alleged incident she saw the footballer "smirking" at her.
Ronnie Jaffa, defending, said that she had not actually seen the person who groped her.
"It's unlikely he [Bramble] would grab her bum and simply stand there," he said.
The trial continues.