Christy Ruddell: Coroner's concerns over death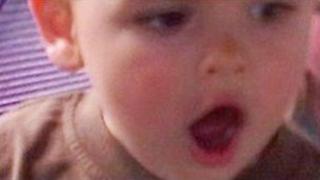 A coroner said he will raise concerns with the health secretary over the case of a County Durham toddler who was killed by his mother.
Melanie Ruddell, 40, strangled her son Christy, two, in August 2010 and then carried his body into a police station.
Her family said their concerns about her "fell on deaf ears".
Recording an unlawful killing verdict, Sunderland Coroner Derek Winter said he wanted to raise issues to prevent a similar case.
Mrs Ruddell strangled her son at her brother's home in West Rainton and then walked into Peterlee Police Station with his body.
The inquest heard Mrs Ruddell had caused concerns about her mental state after she made a bizarre set of allegations to police.
She was taken to the University Hospital of Hartlepool but discharged herself before psychiatric assessment could take place.
She explained she was desperate to see her son rather than wait to see a specialist, the inquest heard. The following day she killed Christy.
'Lessons learnt'
Mr Winter said: "I have heard evidence that gives rise to concern that circumstances creating a risk of other deaths will occur or continue to exist in the future and in my opinion action should be taken to prevent the occurrence or continuation of such circumstances or to eliminate or reduce the risk of death created by such circumstances.
"Lessons must be learnt."
The issues he will raise with the health secretary are the need for appropriate training for mental health awareness for professionals and a need for public awareness.
He also said there was a need for communications and information sharing between agencies, describing the communications in the case at times as "confused" and "fragmented".
Mr Winter also spoke of the importance of support for family and friends of those affected.
Mrs Ruddell's brother Neil Close said: "We tried - the friends of Melanie tried to get the family's point across over that weekend.
"We do feel that we weren't listened to by several agencies that weekend and our opinions were just dismissed. They literally fell on deaf ears.
"If we were listened to at any point by any one of those agencies that weekend, maybe things would have been massively different and we might not even have been here now."