West Midlands and Surrey Police release private partner firm shortlist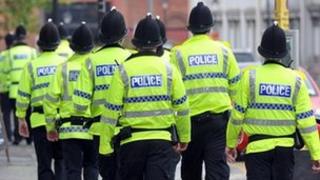 A shortlist of firms has been drawn up as part of plans to privatise elements of policing in England and Wales.
The West Midlands and Surrey forces are inviting bids on behalf of forces, thought to be worth £1.5bn.
Earlier this month a decision, which could see private firms taking on "middle and back office functions", was put on hold until after the Olympics.
The two forces have released the names of six groups of companies that they intend to hold talks with.
In a joint statement, they said the shortlist would allow Police Commissioner candidates - who are to be elected later this year - to take a detailed look at the proposals.
Once elected, the commissioners will replace the existing police authorities.
'Innovation and technology'
Dave Thompson, Deputy Chief Constable of the West Midlands, said: "We have said throughout this process that this is about utilising skills, expertise and solutions that the private sector may have, to help us transform our service delivery."
Critics, including the Unison and Unite unions, have said the plans amount to privatising police operations.
Deputy Chief Constable of Surrey, Craig Denholm, said the forces would be consulting with staff and the public over the plans.
Mr Thompson said the companies were from a broad range of sectors.
He added the forces would now hold talks with the firms to explore what they could contribute, including the use of "innovation and technology".
The six groups of companies announced as part of the Business Partnering for Police Programme are:
British Telecommunications, Reliance Secure Task Management and Vanguard Consulting
Capita Business Services
G4S Care & Justice Services
Kellogg Brown & Root and IBM United Kingdom
Logica UK, Amey Community and Northgate Information Solutions
Serco, HP Enterprise Services, and Accenture