South Central Ambulance Service fails to hit target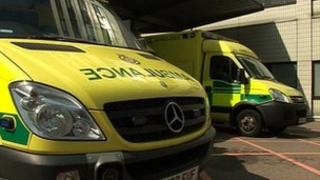 South Central Ambulance Service (SCAS) is failing to meet a government target to attend 75% of 999 calls within eight minutes.
In the week beginning 21 May it managed to make 69.4% of the calls in time.
SCAS said the problem was down to an unexpected demand. In March it received 1,352 extra calls compared to 2011.
Manager John Nichols said: "It's really difficult to understand, it's not just our ambulance trust it's pretty much across the whole of England."
He added: "All Ambulance trusts are experiencing the same unusually high demand."
Spurious callers
Mr Nichols said that despite the extra calls, response times in Oxfordshire remained well above the government target but the service was struggling in Berkshire and other parts of the region.
He added: "We bring on extra resources that happen to be in Oxfordshire because that's where we can put them on and then flex those additional resources down into Berkshire to help."
Chris Ringwood, who has been involved in patient representation for more than 10 years, said more needed to be done to penalise spurious callers.
Mr Nichols said the service was working closely with the police to prosecute hoax callers.
He also said SCAS was looking at ways of working closely with primary care providers like doctors and nurses in the community so it would not always have to take patients to hospital.
He added the figures would soon be back on target: "We will be reaching those certainly towards the end of this month and into June."