Christy Ruddell: IPCC finds police response 'appropriate'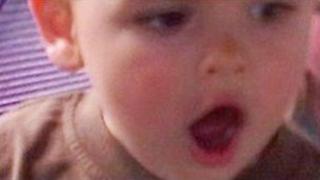 The independent police watchdog has found officers were "appropriate" in their dealings with a County Durham woman who went on to kill her son.
Melanie Ruddell strangled two-and-a-half-year-old Christy in August 2010. She later admitted manslaughter on the grounds of diminished responsibility.
Prior to the killing officers from the Northumbria and Durham forces were in contact with her a number of times.
On Wednesday an inquest recorded a verdict of unlawful killing.
The 40-year-old, of Castle Eden, is receiving treatment at a secure unit.
The Independent Police Complaints Commission (IPCC) examined all police interaction with Mrs Ruddell over the course of two days.
It found she contacted Northumbria Police on the evening of Saturday 7 August, alleging she had been sexually assaulted a week earlier in Sunderland.
This information was forwarded to Durham Police and two of its officers visited Mrs Ruddell who was with two friends.
'Rambling and incoherent'
They attempted to discuss the alleged sexual assault but she was found to be "confused and making little sense". After leaving, they reported their concerns to their superiors.
However in the early hours of the Sunday morning she called police again stating she was afraid and believed someone was coming to her house to "get her".
The two officers who had visited earlier returned. Her friends and brother were also in attendance and plans were discussed to get medical help for her.
Later that day, the two officers from the Northumbria force who had been assigned to deal with the sexual assault allegation arrived at her home and found an ambulance was on its way.
However, they were later told by Mrs Ruddell's brother that she had refused to stay at hospital and would be staying at his house overnight with Christy.
During that night she made further calls to Durham Constabulary and Northumbria Police about the alleged sexual assault.
These were described as "rambling and incoherent" and at one point she reported that people were saying she had harmed Christy and was a paedophile.
'Terrible tragedy'
The IPCC report concluded all the officers who had direct contact with Mrs Ruddell had dealt with her appropriately and their actions had been justified and proportionate.
They were also aware of actions being taken by her family to get medical assistance.
IPCC commissioner Nicholas Long described it as a "terrible tragedy".
He said: "Ms Ruddell's family, friends and the officers involved over the course of these two days reported how caring she was to Christy. There was never any indication of a threat to him.
"The officers who visited Ms Ruddell showed care and compassion and assisted as much as they could.
"Nobody could have predicted that the events would have such a tragic conclusion."