Calls for government to help Coryton oil refinery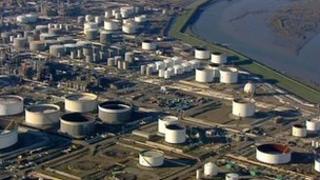 A big debate is starting over whether the government should be doing more to save the Coryton oil refinery in Essex.
There are 850 staff at the plant near Basildon, who are are likely to lose their jobs after the refinery's owners went bust.
It's claimed 100 potential buyers showed an interest in taking it over.
But this week the administrators announced plans to close the refinery.
Large debts
"We're very sad indeed and we share the disappointment of the local workforce that there wasn't a better outcome," Energy Minister Charles Hendry told BBC Essex.
"There were a lot of expressions of interest but at the end of the day the biggest problem was that the debts are so big that the money from anybody buying the facility would be paying off creditors, rather than putting money into the facility itself.
"So for the hundreds of millions of pounds that might have been involved, there wouldn't be a direct commercial gain and that's why they all walked away."
But Richard Howitt, Labour's MEP in the East of England, who has been fighting to save the plant, feels more could have been done.
"I know the administrators had asked the government to provide state aid as part of a rescue deal, and I personally urged them to intervene before it was too late," he said.
"This is desperate news for more than 500 permanent staff and up to 500 contractors dependent on refining at Coryton - and a severe blow to an area desperately in need of jobs as part of the Thames Gateway."
But Mr Hendry says the government would never have been allowed to provide help under EU rules.
"We wouldn't have been able to get permission under state aid rules from the European Commission because they believe there is significant over capacity in the refinery market in Europe.
"And if we'd given support to one refinery in the UK we'd have undoubtedly faced legal action from the others saying that put them at a disadvantage."
Unions say that if the government could provide state aid for the banks it should also provide aid for a refinery that supplies 25% of petrol across the South East and most of the fuel for Heathrow.
Special case?
Mr Hendry maintains that there is no imperative national interest.
"With the banks, if the government hadn't stepped in, millions of people would have lost their savings, so there was an imperative national interest to stop that collapse happening.
"But with a situation like this - the first thing the Commission does is to ask 'is there a special need in that sector?'.
"It's widely accepted there's over capacity in the refinery market across Europe at the moment and therefore you can't make a case."
Richard Howitt disagrees - he thinks that national interest is at stake.
"At the moment we are 40% dependent on Russia.
"If Belgian and Swiss refineries can be saved and the French government can provide £16 million to help save theirs, there is no excuse for the British government to sit on its hands."
At a meeting at the Department of Energy and Climate Change Mr Howitt renewed his call for the government to consider giving state aid.
There is still an outside chance that a buyer may be found but it's looking very unlikely.
If Coryton closes there will be a very intense and bitter debate over whether more could have been done to keep it open.
The Department contacted me and were to point out that it's unlikely that there will be a compelling case for taking the refinery into public ownership.
It says one of the main reasons is that there's significant European refining overcapacity and if the administrator cannot sell the refinery as a going concern there is nothing to suggest Government can.
It also claims it would be a significant liability to put on the public purse. "We would also need to need to consider how this might fit with the state aid rules", a spokeman said.
The department added that the Administrators are still actively trying to close a deal on Coryton and the outcome of that shouldn't be pre-judged.