Dudley lorry driver dies in M5 crash in Gloucestershire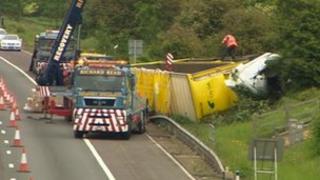 A lorry driver has died after the vehicle he was in overturned on the M5 in Gloucestershire.
Police said the crash on the southbound carriageway between junctions 11a and 12 happened at about 01:30 BST.
An ambulance spokesman said the 37-year-old from Dudley was pronounced dead at the scene.
Gloucestershire Beekeepers Association helped recover bees that escaped from the lorry.
Police said that it was a delivery lorry and that one of the damaged boxes contained live bees.
They said that the bees have been passed on to the customer they were intended for.