South Central Ambulance Service response times revealed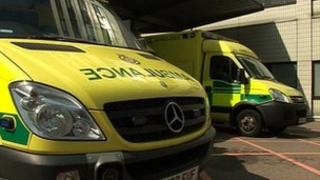 If you dial 999 in a life threatening emergency the time it takes an ambulance to reach you can vary depending on where you live, figures given to the BBC have shown.
A Freedom of Information request to South Central Ambulance Service (SCAS) has revealed varying response times in different districts in the past year.
The government target is to have an ambulance on the scene in under eight minutes for serious 999 calls.
In Hampshire's Hart District ambulances met this target less than 50% of the time.
December saw the poorest response rate with ambulances arriving in less than eight minutes in only 33% of cases.
This is in stark contrast to the bigger cities.
In Portsmouth ambulances were on the scene within eight minutes for 87% of serious call outs. In Oxford it was 92%.
'Post code lottery'
John Nichols from SCAS said that although on average response times were generally good, he was "very concerned" about the regional variations.
He said: "We attempt to provide as equitable a service as we can, irrespective of where you are.
"There is a distance and time factor. Our aim is to enable our vehicles to be in the community more often.
"But we can only put on so many ambulances on crews on any one day."
Paul Maloney from the GMB Union, which represents ambulance crews, said the variations were "really frustrating" for paramedics.
He added: "They haven't got the resources, the ambulances aren't placed in the vicinity in the right place at the right time. There's cut backs coming and crews being downsized.
"If you make a 999 call and the ambulance is outside the area then obviously it's going to take longer to get there.
"They need more crews, more money, and to share services more. One area gets robbed while another area gets a good service. It is a post code lottery."
SCAS is in the process of rolling out a "GP Triage" scheme to lighten the load on the 999 service and help improve response times.
Instead of taking patients to hospital, paramedics on the scene may call the patient's GP who can give advice by phone, or book the patient in for an emergency appointment.
It means the ambulance crews can avoid taking patients to the bigger hospitals where they can be tied up for several hours.
Berkshire GP Dr Simon Brown said: "We're all under pressure and there can be times when one more phone call can be a bit too much, but it is still better all round.
"If you can get the most appropriate treatment to the patient first time, then you cut out the wastage in the system."
The ambulance service has also run several campaigns encouraging people not to dial 999 unless it is a real emergency in an attempt to cut the volume of calls it receives.
It says it means it can get to the most serious cases more quickly.