Appleby Horse Fair warning to Teesdale motorists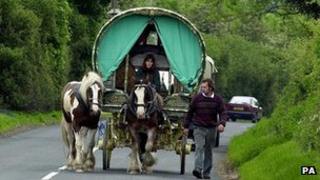 Drivers in the Teesdale area have been warned to watch out for horse-drawn vehicles, as travellers make their way to a horse fair in Cumbria.
The annual event in Appleby is due to begin on 7 June, but travellers are already en-route.
The A66 is one of the main routes and there are official stopover points in Barnard Castle.
Up to 3,000 caravans, 10,000 travellers and 30,000 visitors are expected to attend Appleby Horse Fair.
A Durham Police spokesman said: "People from the travelling community have the right to use horse-drawn caravans and other vehicles on the roads, and we can expect to see more of them at this time of year.
"They do get advice about how to avoid conflict with other road users, and at the same time we're reminding motorists of the need to pass horse and horse-drawn vehicles with care, leaving extra room in case a horse is startled.
"This applies to the run-up to the fair, and also the week after, when people are making their way home."