South East businesses receive Olympic boost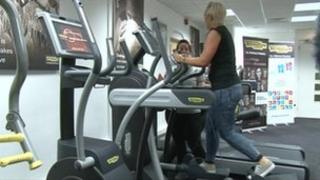 Hundreds of businesses across the south and south east of England are to share in £2.5bn-worth of contracts for the Olympic and Paralympic Games.
The South East Partnership, which works to secure an Olympic legacy, said 750 businesses in the region had secured deals for London 2012.
Berkshire-based company Technogym is among the companies to win contracts.
The Bracknell-based firm is to provide gym equipment and personal trainers for athletes competing in the Games.
Marketing manager Louisa Wright-Wastell said: "We are so excited. It's an absolute privilege to be involved to the level that we are."
The company will supply machines at the Olympic village in London and at other locations where competitors will be training.
Another company to benefit is the Arora Hotel at Gatwick, West Sussex, which will be welcoming athletes for their pre-Olympic training camps.
Hotel manager Jan Lensen said: "I think in terms of financial impact, if I put a pound figure to it, it's probably worth half a million pounds, put together, to the hotel.
'Enormous boost'
"The local economy could benefit. These athletes are not going to be locked in the hotel. They can be out and about using local restaurants, local parks, hopefully local shopping centres."
Oona Muirhead, South East representative for the Olympic Organising Committee, said: "It has given an enormous boost in the South East, actually, at a really excellent time when businesses have been suffering through the recession.
"So, [it is] not a bad time to have had £2.5bn-worth of extra money to businesses coming into the South East from the 1,200 contracts that they have won."
Other businesses in Berkshire and Buckinghamshire are also set to benefit from extra visitors during the Games.
The Olympic rowing and canoeing competitions will be held at Dorney Lake, near Windsor.
Julia Wright, visitor manager for the Royal Borough of Windsor and Maidenhead, said: "We are expecting 30,000 people a day for the rowing.
"We are expecting an influx of cars and people coming in by train.
"We've worked hard with the organisers to extend the opening times of the park-and-ride sites so that people have the opportunity to come into the town centres and enjoy something to eat or do some shopping and make the most of our visitor attractions.
"It's part of our job to make sure visitors understand what there is to see and do locally and to encourage them to stay. They may only have a ticket for one event but there is so much for them to enjoy."