Michael Turner and Jason McGoldrick on trial in Hungary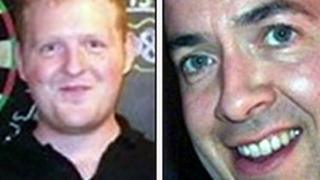 The trial of two businessmen whose time-share company collapsed allegedly owing creditors £18,000 has begun in Hungary.
Michael Turner, from Dorset, and Jason McGoldrick, from Devon, ran a marketing firm in Budapest, offering holidays in the Canary Islands.
Mr Turner, 30, from Corfe Castle, and Mr McGoldrick, 39, from Plymouth, deny the charges at Budapest District Court.
Their company Dream Espana collapsed in 2005.
Resuming the hearing, Judge Laszlo Biczo cross-examined Mr Turner about his business dealings between 2003 and 2005.
Hundreds of Hungarian customers are alleged to have lost money when Dream Espana was unable to offer them the time-shares they wanted.
'Hard-working'
South Dorset MP Richard Drax travelled to Hungary to provide a character reference in support of Mr Turner.
He described him as a "hard-working, honest man".
He said: "He is a father of three who I have known since 2006 and everything I see and hear about him is exemplary.
"He is very much a respected member of the community and a young man desperate to get on with the rest of his life."
The trial is expected to last until 19 June.
Both Mr Turner and Mr McGoldrick were held for four months in Budapest after being extradited from the UK under a European Arrest Warrant (EAW) in 2009.
They were eventually released without charge in February 2010 from a former KGB prison.