Leeds United's Ken Bates to pay Melvyn Levi compensation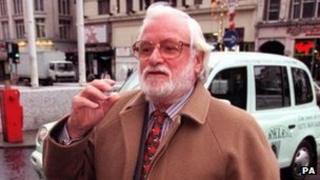 Leeds United chairman Ken Bates has been ordered to pay £10,000 to a former director who sued him for harassment.
Former club director Melvyn Levi claimed he suffered stress after announcements on the club radio station allegedly likened him to "a fugitive".
He also claimed comments made by Mr Bates in a match day programme amounted to speculation over his marriage.
Mr Levi later said the Football League should investigate whether Mr Bates was a suitable person to run a club.
Mr Bates cannot discuss Mr Levi's private life in public for two years, Leeds County Court ordered.
A similar claim against Mr Bates by Mr Levi's wife, Carole, failed.
Injunction granted
The judge said the Leeds chairman was allowed to mention the on-going commercial dispute between the two, known as the "Jersey proceedings", as well as other non-private matters.
Explaining why he was granting the injunction, the judge said: "I cannot think of a better reason than the delving into Mr Levi's private life in what is a commercial dispute between Mr Levi and Mr Bates which I hope will be resolved by someone else on another day."
The allegations centred around articles in a matchday programme and a broadcast on the club's radio station, Yorkshire Radio.
The court heard from Mr Bates's lawyer, Hiren Mistry, about the club's attempt to serve a writ against Mr Levi in December 2010.
The club was pursuing legal action against Mr Levi for £190,400 Mr Bates claims he and another party owed the club.
The judge heard that legal papers could have been served on Mr Levi on 22 December but this was not done because Mr Bates was going to use the Yorkshire Radio station to mention Mr Levi on a daily basis.
'Happy conclusion'
The court previously heard that radio announcements asking for information on Mr Levi's whereabouts during a Leeds match on Boxing Day in 2010 likened him to "a fugitive".
Mr Bates was accused of using the club's programme to pursue a personal vendetta and make the lives of Mr and Mrs Levi "a misery".
In 2009 Mr Levi successfully sued Mr Bates for libel over articles written in the programme and the Leeds chairman was ordered to pay £50,000 damages plus costs to Mr Levi.
On Thursday, Mr Bates, Leeds United and Yorkshire Radio have been ordered to pay the damages, their own legal costs and 30% of Mr Levis' legal costs.
Speaking after the judgment, Mr Levi said he estimated that Mr Bates, Leeds United or both had spent close to £4m fighting legal battles against him.
He said: "I'm just pleased to say that my wife and myself are happy that the matter has come to a conclusion in our favour."
The Football League said it would not be issuing any comment on the remarks made by Mr Levi about Ken Bates.
Mr Bates and Leeds United Football Club have been unavailable for comment.