Lesley Dunford 'shocked' by daughter's death in Sussex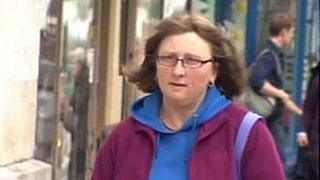 A woman accused of murdering her three-year-old daughter has told a court of her "utter shock" in finding her child dead.
Lesley Dunford, 33, now of Exeter, Devon, denies smothering Lucy at the family home in Camber, Sussex, in 2004.
Lewes Crown Court heard six months earlier, Ms Dunford's son Harley died in his cot at the age of seven months.
Ms Dunford said: "She wasn't moving. I was in complete and utter shock because this could not be happening twice."
She told the court she noticed Lucy had a temperature and put her to bed at about 14:00 GMT on 2 February 2004 at their house in Pelwood Road, before going back downstairs.
She said later she went upstairs to go to the toilet and went into the bedroom to check Lucy was still asleep and saw her face down in the pillow.
Cut above eyebrow
"I turned her head to see if she was breathing," she said.
"She was still warm but was stiff. She was rigid.
"She was mauve around the mouth and she had a cut above her left eyebrow. She wasn't breathing."
Ms Dunford said she checked her daughter's neck and wrist but could not find a pulse.
She said that after she found her daughter's body, she ran downstairs to fetch a telephone.
"I was very scared, very frightened," she said.
Ms Dunford said Lucy died on the same day her husband, Wayne, 54, returned to work after 19 months of unemployment.
She said she had been nervous about being left at home to look after Lucy alone but denied being depressed about it.
'No psychiatric problems'
When asked by defence counsel Peter Gower QC whether she had difficulty coping at home, Ms Dunford replied: "Not at all."
The court heard she had suffered from epilepsy, but had not been diagnosed with any psychiatric or autistic problems.
The day before Lucy's death, Ms Dunford and her husband had visited Harley's grave at Rye Cemetery, a ritual they carried out every Sunday.
On the day Lucy died, a plan to send her to pre-school was cancelled because of heavy rain.
Later, Ms Dunford and Lucy went to the library and shop before returning home to watch TV and play, and Lucy was put to bed after developing a temperature.
Ms Dunford told jurors she was not conscious of anything unusual until she found Lucy's body.
The case continues.