Gang members jailed for stealing tractors destined for Iraq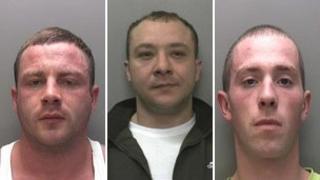 Three members of a gang which stole £500,000 of agricultural vehicles to export to Iraq have been jailed.
Lincoln Crown Court heard the 12 tractors and one digger were stolen for use in the building trade.
Kirk Frost, 28, of Dunscroft, Doncaster, and his cousin John Frost, 35, from Hull, were each given four-year custodial sentences at Lincoln Crown Court.
Family friend Jonathan Isle, 27, from Thorne, was given 21 months.
They all pleaded guilty to conspiracy to steal.
Two other gang members, including Kirk's father, were jailed on 30 May after being found guilty of the same charge.
Judge Michael Heath told the remaining three defendants: "The theft of tractors in rural counties is a real problem, particularly so in this county of Lincolnshire.
"Asso Jabar and Terence Frost were the bosses of this operation, you three were the next level down. Nevertheless all of you played a part in what went on."
The men were caught by Lincolnshire Police as part of Operation Goldflake, set up in response to a string of tractor thefts in summer 2010.
Judge Heath commended Det Sgt Richard West for his role in the investigation.
He also commended two members of the public who tipped off police, and both will be given £250 from public funds.
The majority of the vehicles were stolen from Lincolnshire, apart from two offences committed in Humberside.
Police worked out they were taken to a disused farm in Fotherby, near Louth, Lincolnshire.
They were then taken to ports by lorry and transported out of the country.
Frost, 53, of Broadwater Drive, Dunscroft, Doncaster, was given six years, and Jabar, 31, of Agbrigg Road, Wakefield, got five-and-a-half years.