Beccles Lido takes over River Waveney Big Dog Ferry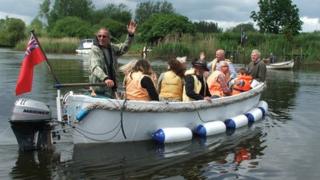 A ferry service on the Norfolk/Suffolk border has been saved by volunteers who run an open-air swimming pool.
The operator of the Big Dog Ferry, which sails between Beccles and the Geldeston Lock Inn on the River Waveney, retired for health reasons.
Beccles Lido Limited has stepped in to offer the three-mile trip between Norfolk and Suffolk.
Shaun Crowley, the lido's chief executive, said: "It will raise more funds for the lido."
The ferry, which seats 12 passengers, was revived by Paul Aldis in 2011. He added the stop at the lido.
Mr Aldis retired for health reasons and sold the boat, at cost, to the lido trust.
'Break-even'
Mr Crowley said: "[The ferry] is a complementary business to the lido and it worked well last year with Paul on site and his customers were using our cafe.
"The overall operation is running sustainably and above break-even."
The ferry does five daily return trips.
John Packman, from the Broads Authority, said: "It's a really nice little service that means people can enjoy two very special things about the Broads.
"We supported the refurbishment of the lido with a little grant and we've also done work up at the moorings at Geldeston, so it's really nice that this opportunity is there for people."
Beccles Lido Limited formed in 2009 as a community charitable trust and the pool reopened in 2010.
The trust took over the Beccles Public Hall earlier this year.