Police Diamond Jubilee medal auctions 'disrespectful'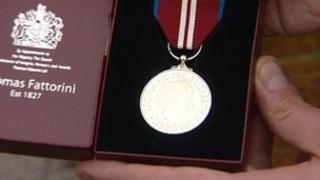 Police officers selling medals awarded to them by the Queen to mark her Diamond Jubilee are "disrespectful", police chiefs have said.
The medals were given to officers with five full years of service and have attracted eBay bids of more than £100.
One force said it may publicly name any officer found to be selling the medal.
A Police Federation spokesman said he was disappointed but thought the action may be the result of officers feeling neglected by the government.
In the UK, 450,000 of the emblems were awarded to eligible members of the armed forces, prison service and emergency service workers, including police community support officers.
'Tawdry amount'
The police medals listed on eBay are in locations including Knottingley and Brighouse in West Yorkshire, Sleaford in Lincolnshire, Stockton-on-Tees in County Durham and Christchurch in Dorset.
Bids for one medal, which is paired with a Golden Jubilee medal issued to officers in 2002, had reached £102 by Friday evening.
David Crompton, Chief Constable of South Yorkshire Police, said he found the matter "very disappointing and disrespectful" and he was considering publicly naming any officers found to be selling their medals.
He added: "If we do discover that any officer from South Yorkshire Police has tried to sell their Jubilee medal, we will remove this medal from the officer's service record."
Geoff Dodd, Assistant Chief Constable of West Yorkshire Police, said: "We are obviously disappointed to hear that one or two individuals are offering their personal medals for sale. We shall take steps to find out who they are and expunge the record of the medal from their career history.
"I wonder if they may regret their actions at some stage in the future.
"The few pounds or so that they are prepared to sell the medal for is a tawdry amount and is disrespectful to their colleagues who will wear their medals with pride."
Last month the Home Secretary Theresa May was heckled at the Police Federation conference as she justified budget cuts of 20% in England and Wales, saying police needed to "share" in government austerity measures and the change was in forces' interest.
Andrew Tempest-Mitchell, from the federation, said officers were "disgruntled and disappointed with the attitude of the government towards police officers" and some had taken the "rather unusual step" of selling medals.
"Really what they should have done is they should have declined to take them or sent them back to the Home Office but really they should cherish them because it's really about service to the Queen," he said.
"I have accepted mine and I think it's a wonderful gesture."