Government praise for Cambridge charity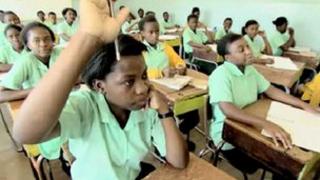 Andrew Mitchell, the International Development Secretary is a minister who's looked upon with a fair degree of envy by his colleagues because while they're having to drastically cut their budgets, controversially, his has been ring fenced.
It means that last year he was able to spend more than £6 billion on foreign aid, and this week he came to Cambridge to see how some of it is being spent.
He was visiting the offices of CAMFED - a charity that gives bursaries to help girls and young women in Africa into education.
"This is an example that aid is a means to an end and not just an end itself," he said.
"This charity is enabling people to look after themselves, education is enriching their lives."
Helping hand
CAMFED (it stands for Campaign for Education but it doesn't use the full name anymore) was set up almost 20 years ago and in that time has helped almost two million women.
"If you support the education of girls, then they're going to grow up to be educated women in control of their lives," says director, Ann Cotton.
"They'll be able to choose when to marry, when to have children and they won't give birth to the next generation of poor children."
The government is increasingly keen on supporting this kind of aid.
Since coming to power it has increased spending on education projects in Africa from £395 million to £560 million.
Ministers are very keen on short term projects which can give a life changing helping hand.
Which is why Mr Mitchell has just given CAMFED its biggest grant yet, £12 million which will fund 24,000 bursaries in Zimbabwe.
Foreign aid
Recent figures show that the UK now spends 0.56% of its GDP on aid, far more than any other G8 country.
But while aid agencies have criticised the government for not pushing ahead with a bill which would enshrine in law a commitment to make the aid budget 0.7% of GDP (ministers say there's not enough parliamentary time), other critics have questioned why we're still spending so much on foreign aid when budgets are being cut at home.
Mr Mitchell is quick to defend the spending: "For under 1% of British national income, we're investing in our future security and prosperity as well as the security and prosperity in some difficult parts of the world and it's right that we do that.
"We have tough decisions to make at home with our own budgets but it's also right that we don't balance the books on the backs of some of the poorest people in the world."
And CAMFED, he says, is proof that foreign aid works.