Prince Harry supports Jo Bryant's cancer battle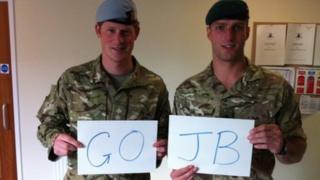 A woman told she has terminal cancer is raising money for complementary therapies.
Jo Bryant's battle with cardiac sarcoma has attracted the support of celebrities including Prince Harry and Gary Barlow, who have been photographed with messages of support.
The 29-year-old from Lincolnshire was told she was in remission last year but the cancer returned.
In February she was given six to 12 months to live.
She said: "I wanted to take the control back and not just follow what the doctors were saying.
"I'm hoping to fix myself through one of the many alternative things I'm going to try.
"At the moment I'm trying to enjoy every day as much as I can."
Miss Bryant, a sports events manager, grew up near Horncastle in Lincolnshire.
She lived in London for seven years but recently moved back to Lincolnshire to be closer to her family.
In February 2011 she was diagnosed with cardiac sarcoma, a type of tumour that occurs in the heart.
Miss Bryant, who has had open-heart surgery twice and undergone 360 hours of chemotherapy, was told she was in remission in September.
But when the cancer came back it had spread to her lungs.
"They said there were between 60 and 70 tumours throughout the lungs so it was therefore inoperable," Miss Bryant said.
She has now altered her diet and is trying treatments including vitamin C therapy, reflexology, aromatherapy and acupuncture, alongside further chemotherapy.
'Gives hope'
"The tumours in the lungs are shrinking, which they didn't necessarily think they would, and the tumour in the heart is stable from all of the latest scans," she said.
"In myself, largely on the whole I feel really good and I think changing my diet has made a massive difference.
"I don't believe at all that the six to 12 months prognosis is correct. The average prognosis for my type of cancer is 14 months, and I've exceeded that."
Miss Bryant has been supported by the charity Yes To Life, which promotes the idea of integrated treatments - conventional and complementary.
"This charity is fantastic at giving you back hope when you don't feel there is any," said Miss Bryant.
More than 150 celebrities have been photographed with messages of support, including Damon Hill, Jonny Wilkinson and Sebastian Coe.
Her friends and family previously raised £25,000 for the charity Sarcoma UK, and they have now started raising money for Yes To Life and for Miss Bryant's treatment.
Martin Ledwick, head information nurse at Cancer Research UK, said: "Complementary therapies can be a useful way of helping people to cope with cancer treatment.
"We would always advise checking with your doctor first to make sure that the therapy you are interested in is safe and unlikely to interact with any other treatment you may be having."