Yorkshire Dales bridleway nears completion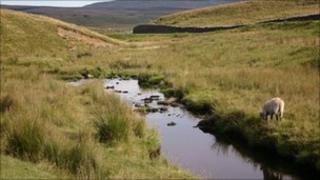 Work is nearing completion on a 52-mile (83km) route through the Yorkshire Dales National Park, completing the last section of a national trail.
The Pennine Bridleway trail will stretch about 200 miles (320km) from Derbyshire to Cumbria along ancient packhorse trade routes and drove roads that have been connected by new links.
The route has been created for mountain bikers, horse riders and walkers.
The whole trail will be officially opened on Tuesday.
The route has been made possible mainly through funding from Natural England and Sport England.
Peter Lambert, Pennine bridleway officer for the Yorkshire Dales National Park Authority, said: "It has been a long process involving a huge amount of planning as well as hours of discussions and meeting with farmers and landowners and all the other organisations whose help has been vital.
"There were times when the end seemed a long way off but we can all now look forward to the big day of the official opening."
The first section of the trail in the Yorkshire Dales National Park - the 10-mile (16km) Settle Loop - was opened in 2005.