BMIBaby to end some routes from East Midlands Airport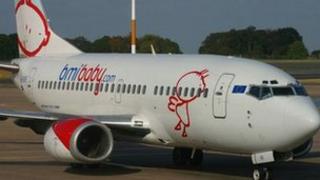 Budget airline BMIBaby is to stop eight of its routes from East Midlands Airport to parts of Europe from Monday.
Journeys to Belfast, Amsterdam, Paris, Edinburgh, Glasgow, Geneva, Nice, will be taken over by other budget airlines.
BMI Regional was sold for £8m in May to a consortium based in Aberdeen by International Airlines Group (IAG).
The new owners said BMIBaby could close with the loss of more than 400 jobs if a buyer is not found for the firm by September.
BMIBaby operated 30 routes from East Midlands Airport with 22 routes staying until September, when other airlines, Jet2 and Monarch, take some of the routes on. It is not clear which flights they will be.
Flights to Newquay from the airport will not be replaced.