Young 'locked out' of owning home, report claims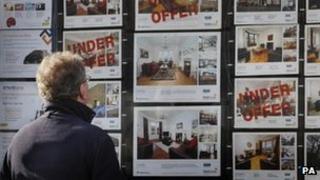 More than a million young people will be "locked out" of home ownership by 2020, a new report claims.
The study, by the Joseph Rowntree Foundation (JRF), found an extra 1.5m 18 to 30-year-olds will be forced into private renting in eight years time.
The number of young people unable to afford to leave their parents' home is expected to rise by half a million to 3.7m in the same period.
The government has said it is committed to providing more affordable homes.
The report authors said that by 2020 the number of home owners under 30 will nearly halve to 1.3m despite earlier findings that young people have the highest expectation of being able to own their own home compared to any other age group.
Devolution is claimed to be responsible for a widely different picture depending on whether a person lives in England, Scotland, Wales or Northern Ireland.
Market driven
The study said there are "ideological differences" between the Westminster government and the devolved regions meaning there are policy variations between England and the other three regions.
It states: "The Scottish and Welsh governments and the Northern Ireland Executive are committed to the principle of subsidising the cost of housing for people who find it difficult to secure a home.
"This contrasts with the Westminster government's policies on housing benefits and social rents, which are seen as disadvantaging low income and vulnerable people and risk segregating the poorest people into the cheapest areas."
It added policies geared around encouraging and facilitating house building to increase supply are "market-driven" in England with less emphasis on affordable homes.
Charlotte Davis is a young professional working in the charity sector in London.
She has had to move house every year since she started working in the city in 2008 because of rent increases.
'So neglected'
The 28-year-old is having to move out of the house share where she is currently living in Battersea after her landlord said they would be putting the rent up by 40%.
She said: "I can't even think of saving a deposit for a flat, it's so unattainable for me or my friends.
"Young people are getting frustrated because we're so vulnerable."
She said finding a house share was like going for a job interview with up to 10 other people applying for the same room.
She added: "My generation did the right thing, we went to uni, we've never claimed off the state but we feel so neglected."
Housing Minister Grant Shapps said a number of initiatives had been devised to deliver enough homes for people at prices they can afford.
He said: "I am determined that we pull out all the stops to get Britain building and deliver the affordable homes this country needs, both to buy and to rent.
"That's why, despite the need to cut the record deficit we inherited, we're investing £4.5billion in a building programme set to exceed all original expectations and deliver up to 170,000 new affordable homes, on top of a further £1.3billion to get stalled developments back on track and to build the infrastructure we need to unlock sites for housing.
"This is on top of a range of measures we're taking to help aspiring first-time buyers take their first step onto the property ladder including the innovative NewBuy Guarantee which offers the chance to buy a newly-built home with just a fraction of the deposit that's normally required."
While young professionals face renting instead of buying vulnerable people face a starker future with the number of homeless young people under 25 predicted to rise to 81,000, with further increases expected.
Kathleen Kelly, programme manager for place at the JRF, said: "Our badly functioning housing system will see those on the lowest incomes really struggling to compete in the competitive rental market of 2020.
"Renting is likely to be the only game in town and young people are facing fierce competition to secure a home in what is an already diminished supply of housing."
David Clapham, lead author of the report, said young people are at a "double disadvantage" with lower wages and not enough homes available to rent or buy.
He said: "With 1.5 million more young people no longer able to become home-owners by 2020, it's vital we take the opportunity to make renting work better.
"To do this we need strong political leadership that is willing to work with both landlords and tenants to make it more affordable and stable for 'generation rent'."