British jobs for Bulgarian and Romanian workers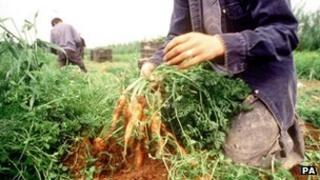 Unemployment is running at 9% in the Midlands, and it's more than twice that among 16-24 year olds.
So how can it be right that local farmers are employing thousands of workers who have travelled here from eastern Europe to harvest the crops?
At one farm in Worcestershire this week, of more than 140 workers in a field of spring onions and peas, only seven were English.
More than 21,000 of the workers coming into this country to carry out low-skilled work on farms are from Bulgaria and Romania.
Food shortage?
They are allowed to work in agriculture for up to six months under the Seasonal Agricultural Workers Scheme, a quota system designed to control migration from accession countries joining the EU.
Ababi Mircea from Romania has a degree in economics but is unable to find a job in his home country.
"The money I make here in one week I make in Romania in one month," he says.
The farmer, Stephen Watkins, explains that the eastern Europeans are hard-working and reliable.
But when the scheme expires next year, Bulgarian and Romanian workers will no longer be confined to farm work and Mr Watkins is worried they will look instead for better-paid work in our towns and cities.
He told us: "Without another scheme to replace the current one, there is a real possibility of a food shortage because there will be nobody to pick the crops."
This is despite the fact that of 170,000 people out of work in the West Midlands, almost 11,000 live in Worcestershire.
Home-grown workers
While resisting any temptation to parrot Gordon Brown's notorious "British jobs for British workers" sound bite, the West Worcestershire MP, Harriett Baldwin, a member of the Commons Work and Pensions Select Committee, says:
"These are solid jobs, they pay well. It is hard work but you are there for a season and you go home with a lump sum of cash.
"I would rather see that staying in the UK."
Mr Watkins says that "it would be great to offer more jobs to British workers but they do not want to do them".
So what's to be done?
Should our farmers hope the EU can agree yet another scheme, this time looking even further east to another accessions nation, Macedonia?
And what does it all say about our own home-grown workforce?
Add your comments to this blog post so that I can refer to them during our main talking point on this week's Sunday Politics programme.
I will be joined by the following guests:
And I hope you will join us too, from 12.00 GMT on BBC One on Sunday, 17 June 2012.