World Cup Willie's sporting mascot legacy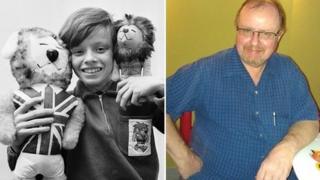 Ask any football fan of a certain age of their memories of the 1966 World Cup and aside from the England win there is one name that often crops up.
He was not a footballer or a fan although he dressed in red, white and blue and could often be seen cheering on England.
World Cup Willie was the first World Cup mascot - a cartoon lion sporting a Union Jack football shirt and a 60s mop-top mane.
Parents buying Euro 2012 and Olympics mascot toys today can thank Willie, or his creator Reg Hoye, for kick-starting the merchandise boom that accompanies most international sporting events.
'Big moment'
Mr Hoye was a commercial artist who illustrated some of Enid Blyton's children's books.
In the 1960s he was living in Marlow, Buckinghamshire, with his family when he was asked to design a mascot for the FA to use for the 1966 World Cup.
He came up with four designs - a boy and three different lions.
It was one of the lions, which he based on his son Leo, that became the official mascot of the tournament.
Dr Leo Francis Hoye, who now lives in Hong Kong where he is a professor of linguistics, said it was very exciting at the time to be involved in the World Cup and be given mascots and a branded tracksuit to wear when he was photographed by the media.
He said: "It was a big moment, my father had quite a lot of success with Enid Blyton, but when World Cup Willie took off it was exciting because of all the interest.
"There was a lot of interest from West Germany and the Soviet Union which was quite extraordinary, everyone entered into the spirit of celebrating sport without the nationalism you see today."
Legal challenge
The logo was to lead to more mascot work, with Mr Hoye being asked to design a polar bear character for London Zoo and a red devil for Manchester United.
But none of them eclipsed his earlier creation.
Leo said: "Willie was used on everything from tea towels to bedspreads and mugs - all those things are very common (as merchandise) now but at the time it was very new.
"My father was very patriotic so he was very happy about the excitement that surrounded the mascot."
Mr Hoye died in 1987 but his World Cup mascot is still remembered today.
His son is currently writing a book about Willie's creation and his influence on sports branding around the world.
He said: "He is not just remembered in Britain but by people of my generation from other countries.
"I've looked through the FA's archives and there was tremendous interest from all over the world."
And although World Cup Willie is no longer used by the FA, the image is still protected.
In 2007 the FA won a legal challenge to stop the mascot logo and name being used by a company on a range of products.
That a firm should want to use his image today is hardly surprising considering his popularity around the world.
Leo said: "There was nothing threatening about him, which is one reason he was so popular internationally."
And while the artist who designed him would continue to produce characters for various organisations Willie remained his favourite creation.
At the height of World Cup fever Mr Hoye drew a picture of Willie drawing his creator, which appeared in a German magazine.
Leo said: "The German picture shows that my father had a sense of humour and very much loved his creation."