MP calls for investment in Midland Mainline services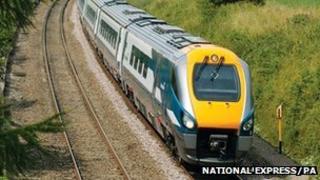 The Midland Mainline runs through the centre of the country, it carries more than 13 million passengers a year, and yet according to the MP for Kettering, when it comes to investment it's the most overlooked rail line in Britain.
"In recent years, some £12 billion has been spent on the rail network, but only £200 million has been spent on the Midland Mainline," he told a debate in Parliament.
"Ours is very much this country's overlooked line, even though we connect so many places of importance."
With the government drawing up a new list of rail spending priorities MPs across the region are calling debates fighting for their stretch of line.
Speedier services
This week it was Mr Hollobone's turn and he believes there's a strong case to be made for the Midland Mainline.
"Despite having a very good punctuality record, the Midland Mainline is the slowest of any of the inter-city lines," he said.
"Due to under-investment in the past 20 years, Midland Mainline trains cannot go at their top speed on any stretch of the track.
"Most other inter-city lines can go up to 125 mph, but despite the fact that InterCity 125s run on the line, their top speed is mostly limited to 100 mph."
Passenger numbers, he said, had increased by 127% over the last 15 years and a further 28% rise is expected in the next 10 years.
Upgrading and electrification of the line would be of immense benefit to Kettering and to the East Midlands.
It would lead to faster and more frequent services and deliver £450 million of economic benefits to the region.
In particular he wants to see three pinch points tackled: they are at Leicester, Derby and the stretch between Kettering, Harborough and Wigston.
Rail investment
We're starting to feel sorry for the rail minister Theresa Villiers and her colleague Norman Baker who take it in turn to listen to these pleas for rail improvements and then each time have to give roughly the same response.
Ms Villiers acknowledged the importance of the Midland Mainline, pointing out that it had received "important investment" in recent years.
New stations had been delivered at Corby and East Midlands Parkway, there had been major improvements at Loughborough, Sheffield and St Pancras, and further improvements were in the pipeline.
She recognised that any improvements to the line would pay for themselves within 10 years.
But she warned that "the government's response to the campaign will depend on what is affordable within budgets".
Mr Hollobone made a very strong case for the Midland Mainline but we were struck by how few other MPs came along to support him.
Other debates calling for improvements to rail lines in the region have been much better attended with neighbouring MPs supporting each other.
Will the minister take that into account or will she just focus on the strength of the argument?