Ambulance boss assurances after MP's 999 warning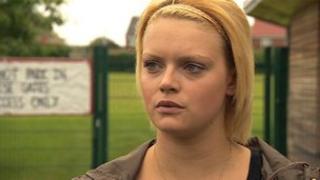 In modern politics, there is no issue more incendiary than squeezed budgets in the health service.
Threatened cuts to the NHS grab negative headlines for any government and can lose votes big time.
The sad story of a young mother Sarah Gould and her partner Gary Day illustrates all these sensitivities.
Their anguish has been highlighted as an example of NHS cuts by the Nottinghamshire Labour MP, John Mann.
Sarah complained that the wait for a 999 ambulance had resulted in the death of her unborn baby.
Waiting times
Her ordeal began as she took one of her children to school.
Sarah, who is 21, was 30 weeks pregnant with her third child. She was bleeding.
Fortunately, it was a short walk to the neighbouring Sure Start centre where a visiting mid-wife raised the alarm and called for an ambulance.
The time it took for that ambulance to arrive is disputed. Sarah says it was just short of an hour.
East Midlands Ambulance Service says it was 34 minutes. A paramedic arrived in 13 minutes.
Sarah is adamant that was too long. She says her baby was dying. By the time she was taken to hospital, it was too late.
Here's what particularly angered her: the local ambulance station that covers the Retford area of north Nottinghamshire is within view of the Sure Start Centre.
But on that day, there was no crew there and she's blaming that on the impact of NHS spending cuts on the ambulance service.
"If you make an emergency call for an ambulance, you expect it to be there. I blame the government and its spending cuts for this delay. It's just unacceptable," Sarah told me.
Arrival targets
She's backed up in that belief by her MP John Mann.
"A cover up has already begun," he said.
"Demoralised staff have already complained that the ambulance service cannot cover its shifts and that they are being forced to work shifts elsewhere."
This is particularly sensitive for the senior management of the East Midlands Ambulance Service(EMAS).
It is responsible for the ambulance cover for a population of almost five million people across a predominately rural region.
It responded to 670,000 emergency calls last year.
It's also had to defend its reputation. Last year, its response time to emergency call outs attracted headlines such as "the worst performing ambulance service in the country".
The NHS sets the ambulance service an arrival target time of eight minutes for 999 calls categorised as life threatening.
In 2010-11, EMAS's category A response rate was 72.4%, while the national average was 74.9%, according to NHS figures.
Sarah says her baby's life was threatened and the call was an emergency.
"If an ambulance had arrived in eight minutes to take me to hospital, there's every chance my baby could have been saved," she added.
Budget pressures?
There's a new chief executive at EMAS. Phil Milligan was quick to extend his condolences to Sarah and her partner Gary on their sad loss.
He's a high flying NHS professional who was also quick to tell me he couldn't engage in the political debate over funding.
But he denied the accusations by Sarah and her MP of cuts to the ambulance service's front line.
He added that budget cuts were in no way a contributing factor to Sarah and Gary's loss.
"We are in the process of changes to increase not cut our investment in the delivery of front line services. This is about improving our service for the East Midlands," he told me.
He also points out that the number of front line A&E staff has risen by 44 over the past two years
"We've invested £9 million on front line ambulances last year, and £8 million on front line ambulances this year," added Mr Milligan.
That's unlikely to persuade John Mann and health unions who represent some ambulance staff.
"EMAS is in denial over its budget cuts," he said.
"It will soon propose ambulance station closures because the government is forcing through cuts and privatisation."
Robust response
Perhaps the Bassetlaw MP should take his case to the Prime Minister direct.
This week's PMQs offered a flavour of the type of robust response he could expect from David Cameron.
As the PM told the Commons: "More money is going into the health service because this coalition government decided to invest in our NHS."
That's scant comfort for Sarah. She was expecting a baby.
Little will change her mind that NHS budget pressures were a key factor.
She believes that caused her ambulance to be delayed.