Stock car racer Steve Newman killed at Mildenhall Stadium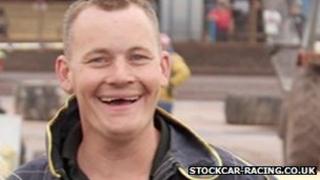 A stock car racer has been killed in a crash at the Mildenhall Stadium.
Steve Newman, 36, from Spalding in Lincolnshire, was taking part in the Saloon Stock Car British Championship final at the track at West Row, Suffolk, on Saturday evening.
The crash happened in the early stages of the 25-lap race, in which 32 cars were taking part.
The meeting, which is run by RDC Promotions and was due to last all weekend, was abandoned as a result.
'Somersaulted'
Race organisers said Mr Newman's car hit the central reservation and led to a multiple pile-up.
Dave Coventry, stadium owner and promoter, said: "The car rolled and somersaulted over, and the other cars had no option but to hit the upturned vehicle.
"Stock car racing is like an enlarged family - rivalry and tensions are there, but everyone pulls together when there's a tragedy like this.
"Our thoughts and sympathies go out to Steve's family, close friends and to everybody who had the unfortunate experience of witnessing the incident."
RDC said the Health & Safety Executive will carry out an investigation and the governing body of the sport, Oval Racing Council, will work alongside them.