Surrey memorial service marks Staines air crash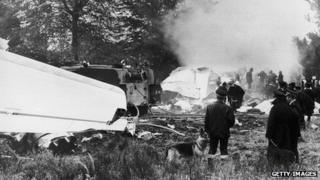 The 40th anniversary of a plane crash in Surrey in which 118 people died has been marked at a memorial service.
One of the UK's worst air disasters took place when British European Airways Flight BE548 crashed in a field in Staines in 1972.
The Brussels-bound aircraft had taken off minutes earlier from Heathrow.
Prayers were said at the Memorial Ground at Moormede Recreation Ground, followed by a service at St Mary's Church, Staines.
The Bishop of Guildford, the Rt Rev Christopher Hill, took the service.
A memorial event is held every year in the town to remember the crash. This year participants included a contingent from Brussels.
Aircraft broke in two
Mike Bannister, who was chief Concorde pilot for British Airways between 1995 and 2003, knew two of the pilots who were killed in the crash.
He said that significant advances were introduced following the investigation into the accident, including cockpit voice recorders on UK-registered larger aeroplanes.
"This type of accident is very sudden," he said.
"The crew on the flightdeck would've known what was happening, but I suspect the rest of the crew and the passengers on board would have had very little knowledge."
The Trident jet had been involved in another accident in 1968. Witnesses who saw it crash three miles from the airport reported how it "dropped out of the sky".
The plane broke in two on impact. The fuselage ploughed into trees and the tail section ended up 50 yards (45m) away.
'Staines disaster'
Rescue teams pulled two people alive from the wreckage - a young girl, who died at the scene, and a businessman who died a few hours later in hospital.
An inquiry by the Air Accidents Investigation Branch found a speed error had caused the plane to stall and the aircraft was not at a sufficient height for the crew to regain control.
In 2004, the council created a memorial bench in Moormede Recreation Ground to provide a peaceful area for reflection.
It also co-funded a stained glass window which was installed at St Mary's Church to commemorate the tragedy.
Robin Sider, mayor of Spelthorne, said: "The accident became known as the Staines disaster, and was the worst air disaster in Britain until the Pan Am flight 103 bombing over Lockerbie in Scotland in 1988.
"I am proud to be associated with the annual commemorations of this dreadful event and thank all who are coming to remember the occasion in their own way."