West Midlands politicians vie for commissioner roles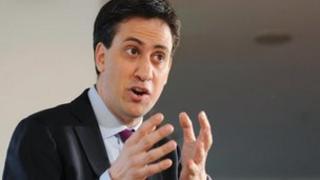 "If I were in government, I wouldn't be holding these elections at all. Certainly not in November."
In Birmingham for the unveiling of Labour's candidates for police commissioner, Ed Miliband was clearly underwhelmed by the prospect of polling on Thursday, 15 November.
But that did not mean he was unenthusiastic about the campaign his party would be advancing for a different approach to tackling crime.
"It's about being in the community, understanding the community and nipping things in the bud. We need neighbourhood policing."
Among his party's candidates will be:
Former leader of the Labour group in the European Parliament and ex-West Midlands MEP Dr Simon Murphy. Mr Murphy will be standing in West Mercia against the Herefordshire Conservative cabinet member Councillor Adrian Blackshaw;
The former work and pensions minister and ex-MP for Warwick and Leamington James Plaskitt. Mr Plaskitt will be standing in Warwickshire against the Conservative former police authority chairman Fraser Pithie;
Councillor Bob Jones, who enjoys the distinction of being a serving politician as a member of Wolverhampton City Council. However, the West Midlands Police Authority of which he is also a member is itself about to become defunct to clear the way - yes you get it - for the new police commissioner;
In Staffordshire Labour's candidate is the Stoke City Councillor Joy Garner, a member of the current police authority. Here again, the other parties have yet to name their candidates.
Among his possible opponents are the Solihull Conservative Councillor Joe Tildesley, the Birmingham Liberal Democrat Councillor Ayoub Khan and "John Bull" himself - AKA Ray Egan - the retired policeman. I will keep you updated as further names come out of the woodwork.
The roll call of former-thises and used-to-be-thats does nothing to dispel suggestions the new role could become a repository for recycled politicians.
Labour's national candidates list also includes a former party chairman, a former solicitor general and a former first minister of Wales. It also boasts a certain former deputy prime minister-turned-life peer, Lord Prescott.
So these elections are already shaping up to be bruising party political battles. One of the elements the Police Federation representing rank-and-file police officers dislikes most intensely is what it sees as a blurring of the line between a public service and party politics.
Martin Surl retired as a superintendent in Gloucestershire earlier this year after 32 years' service and has since declared his intention to stand as an independent candidate for commissioner there. Among his opponents will be Labour's Rupi Dhanda, wife of Gloucester's former MP Parmjit Dhanda.
Mr Surl nurses a deep distaste for what he sees as the 'politicisation of policing'. He told the BBC Sunday Politics programme last March he would hate to see political parties claiming to have 'won' police commissioner elections in this or that force area. But that, it seems, is exactly what lies in store at least for some of us when the votes are declared the following afternoon.
So why is the government introducing a measure which is widely expected to produce a powerful new generation of predominantly Labour figures?
During last summer's riots, Home Secretary Theresa May compared the West Midlands 'invisible' police authority very unfavourably with London's high-visibility Conservative mayor Boris Johnson; broom in hand and ready to lead the communal fight back.
Now, she says, the time has come for police commissioners to extend a much more direct form of accountability in 41 police force areas. They will be able to decide policies and budgets and, ultimately, to hire and fire chief constables.
As for their objectives? Remember Mrs May has told the police they have only one; to cut crime.
Let me know your views by posting a comment. I will do my best to read the best ones out during this week's studio debate. I will be joined by the Conservative MP for Nuneaton in Warwickshire, Marcus Jones and by the Labour MP for Ladywood in Birmingham, Shabana Mahmood.
I hope you will join me too from 11am on BBC One on Sunday, 24 June.