Shafilea Ahmed death: Sister admits silent phone calls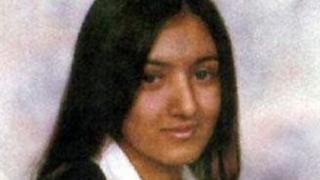 A sister of Shafilea Ahmed has admitted to making silent phone calls to a witness but has denied intimidation.
Mevish Ahmed, 21, told Chester Crown Court she had not tried to bully Shahin Munir into retracting her statement and that the calls had been a joke.
The prosecution has alleged that letters sent to Ms Munir by Ms Ahmed contain details of Shafilea's death.
Iftikhar and Farzana Ahmed, 52 and 49, deny murdering their daughter Shafilea at their Warrington home in 2003.
Speaking on the second day of her evidence, Ms Ahmed said she did not regret writing letters that had only recently been shown to police by Ms Munir which the prosecution says were "letters that you wrote to your friend about your sister's death".
"It's just a story, now it's being taken out of context," she said.
Continuing her evidence, Ms Ahmed denied she was covering up for her parents.
She added: "If they'd done something wrong, I wouldn't just sit there and cover for them."
Andrew Edis QC, prosecuting, told the court of an incident in April 2009 when the witness was arrested on suspicion of stealing money from the family home.
'Beating claims'
He said: "You spoke to Shahin and told her that afterwards you were beaten by your mother and your father, thrown on the floor and they said that you should go to Pakistan right now and talked about finishing you and threatened to kill you."
Miss Ahmed said: "No, I fell outside the house."
The prosecution alleges Miss Ahmed fell out with her parents but returned home after they promised to withdraw the theft allegation.
Mr Edis said: "You had been arrested and investigated for the theft of £600 from your own house and you said (to Ms Munir), 'I'm going back home, if anything happens to me give police the diary'."
Ms Ahmed replied: "I don't recall that at all."
'Not my concern'
After being questioned about the silent calls, Ms Ahmed was also asked about contact she had had with Ms Munir via telephone and text message after the trial began.
The prosecution alleged on Monday that her friend had apologised for handing the letters to the police.
In the second day of Ms Ahmed's testimony, Mr Edis alleged that Ms Munir had appeared upset in text messages to her over what he said was a crisis of conscience.
He also read a message sent by Ms Ahmed in which she said to Ms Munir "you need to go and tell them that you lied".
However, Ms Ahmed denied she had asked her friend to retract her statement to police and that Ms Munir's response to handing over the documents "wasn't my concern".
Mevish Ahmed is the second of Shafilea Ahmed's sisters to have appeared in court.
Previously, Alesha Ahmed claimed she saw her parents suffocate Shafilea with a plastic bag.
The prosecution alleges Mr and Mrs Ahmed murdered their "Westernised" daughter because they believed her conduct was bringing shame on the family.
Her remains were found on the banks of the River Kent in Cumbria, in 2004.
The trial continues.