Bernard Matthews proposes community-owned wind turbines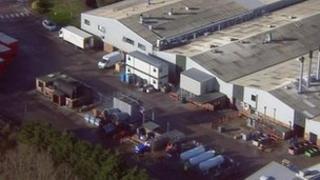 Construction of six community-owned wind turbines in the East of England have been outlined by turkey producer Bernard Matthews.
The 250-ft (76.2m) turbines would be set up on four farms in Norfolk and two in Lincolnshire, producing enough power for 1,800 homes, the firm said.
If it gets the go-ahead, people can buy shares in the £7.5m project.
Friends of the Earth endorsed the plan, saying residents would feel the benefit of the turbines.
Rob Mears, UK director of Bernard Matthews, said the turbines would not be obtrusive.
'Social responsibility'
The 500kW structures would be based at Bernard Matthews' farms in Causeway and Pinchbeck in Lincolnshire and Wendling, Wood Norton, Wreningham and Oulton in Norfolk.
If planning permission is obtained, a company spokesman said it was hoped the turbines would be up-and-running by the end of 2013.
Mr Mears said the shares would look to cover the entire cost of the project, meaning the turbines would be solely owned by the local community and Bernard Matthews employees.
The director said the business model, commonplace in Europe, would be the first of its kind in the eastern region and would look to benefit people as well as the environment.
When asked whether the firm would be set to make money from the turbines, Mr Mears said Bernard Matthews would receive a commercial rent, but added the company had a "social responsibility" with it employing more than 2,200 people in the East of England.
'Limit impact'
"We are acutely aware of our corporate and social responsibilities and this fits in with a number of our green energy initiatives," said Mr Mears.
"The other added bonus, alongside residents owning a stake in the project, is that some of the profits are used to fund new community-based initiatives.
"Taking into account the environmental, community and personal benefits the project really is a win-win for everyone."
Mr Mears said the turbines were "mid-sized" and the proposed farms which they would be built on were chosen to limit their impact on the surrounding area.
Head of campaigns for Friends of the Earth, Andrew Pendleton, said residents would see a benefit from turbines in their region.
He added the company had "recognised the significant business benefits of tapping into clean British energy".